71 sites have this keyword listed in their metadata, here's one you may hate: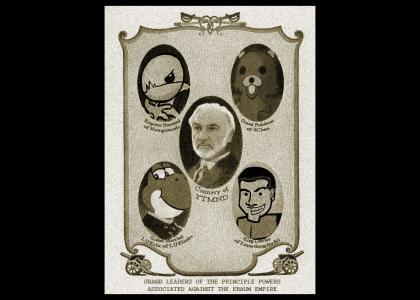 I was in photoshop and noticed that it was around the 1 year anniversary of YTMND-Day. So I thought, hey, why not. I actually had another image I made for it a year ago. If your interested i guess I could .gif it in.
Other sites with this keyword...
| | | | |
| --- | --- | --- | --- |
| ?Where Did The Middle Go!? | hamst3r | 607 | (4.00) |
| ?Kodo gets it on. | MrGains | 1,261 | (3.78) |
| ?TROLL WARS | madDogSoldier | 1,108 | (3.74) |
| ?OMG, Secret Nazi Warcraft Port! | WarcraftLOL | 28,910 | (3.67) |
| ?Alliance Dance Party | Muffeh | 5,233 | (3.63) |
| ?The new Alliance race is Gargoyles! | BringerOfDeath | 4,510 | (3.51) |
| ?Firefly/Serenity is Blue?! | Apako | 4,485 | (3.47) |
| ?Alliance Race is Murlocs Expansion Beta | trollpriest | 3,228 | (3.45) |
| ?Serenity Operative is Screwed | deathscythe | 835 | (3.42) |
| ?New Wow Character (In Game) | Drow | 17,233 | (3.36) |
| ?WoWRLY?? | Airhead15a | 736 | (3.33) |
| ?Learned Perpetual Till Pause | reverenddoom | 392 | (3.29) |
| ?Victory! My Southern Rhodesia Site Made Up and ... | Locke5 | 291 | (3.22) |
| ?WoW my life is back | The-Scatman | 18,480 | (3.20) |
| ?CATCH THAT DRUID! | Lord-Wellington | 222,652 | (3.10) |
| ?OMFG EMPIRE! | flyboy | 5,968 | (3.05) |
| ?New WoW Alliance race announced! | Chreb | 21,214 | (3.05) |
| ?What is nud? | hordeftw | 3,202 | (3.00) |
| ?Nuclear Rave | ThunderJoe | 806 | (3.00) |
| ?Serenity/Firefly Two by Two... | Apako | 3,221 | (3.00) |
| ?MC Raiders | JacktheSmack | 32,383 | (2.98) |
| ?A desprate prayer from ironforge | Dangeresque | 778 | (2.91) |
| ?Kiith-Sa Hunter (MHX) Wins! | ZeromusHunter | 1,958 | (2.90) |
| ?WoW Alliance race announced!!!! | Vinketh | 3,867 | (2.89) |
| ?This is not wow in space!! | smaug | 1,555 | (2.86) |
| ?Naruto supports YTMND | JRPomazon | 1,158 | (2.84) |
| ?world of warcraft:The Alliance got killed by...... | matthew2313 | 6,014 | (2.83) |
| ?GET TO DA GYROCOPTA!!! | YouWereMyBrother | 21,519 | (2.77) |
| ?Ngiaox stares into your soul | ThunderJoe | 349 | (2.71) |