40 sites have this keyword listed in their metadata, here's one you may hate: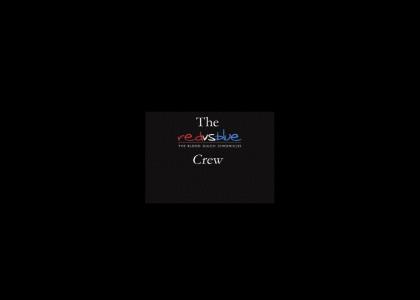 Fixed some synching errors and some sound issues, and so many people downvoted this for the synching that it's only fair to start on a clean slate. Enjoy! And go watch Red vs Blue!
Other sites with this keyword...
| | | | |
| --- | --- | --- | --- |
| ?Screw HDDVD..... | AngryCat | 3,068 | (3.96) |
| ?Vader Cameo in Red Vs. Blue | p0larbear | 8,661 | (3.82) |
| ?Sarge likes Pina Colada...and Blood | ChefOfDeath | 3,503 | (3.75) |
| ?The Old Switcheroo | Ernzoa | 995 | (3.60) |
| ?Your Soul... Arlen Specter | BloodyPython | 810 | (3.57) |
| ?Hey Grif... | AngryCat | 4,010 | (3.54) |
| ?Am I not my own friend?? | crispyllama | 944 | (3.50) |
| ?THERE IS NO 11 | deathsrighthandman | 1,078 | (3.50) |
| ?GAY ROBOT | LiquidEagle | 1,927 | (3.45) |
| ?34x Bow Chicka Bow Wow | ollj | 4,723 | (3.21) |
| ?Bow Chicka Bow Wow | metalgearmkx | 8,743 | (3.07) |
| ?Your Soul... Barack Obama | BloodyPython | 798 | (3.00) |
| ?Hump Hump Hump | Platter | 865 | (3.00) |
| ?Your Soul... Harry Reid | BloodyPython | 828 | (3.00) |
| ?Tex and Church | AndySan | 1,673 | (2.91) |
| ?Behold the blue flag! | Sman | 1,681 | (2.89) |
| ?You're so lucky!!! | CyanidePopcorn | 751 | (2.80) |
| ?I hate Babies | manning49IND | 1,205 | (2.67) |
| ?Red vs Blue in One Second | Ski11et | 929 | (2.50) |
| ?Red Vs. Blue (Japan Edition) | troylazlow | 852 | (2.50) |
| ?Nigerian Royalty | jcraig1701 | 1,212 | (2.47) |
| ?Halo - Dukes of Hazard | Swemba | 7,056 | (2.45) |
| ?Goodbye, Red VS Blue. | dsnyder | 1,204 | (2.43) |
| ?Gus Sorola puts a smile on his face | forthex | 3,809 | (2.40) |
| ?Battle Network Perversion | Hukuzo | 952 | (2.33) |
| ?Grif says Simmons is Emo... | CaptainObvious | 2,720 | (2.33) |
| ?Medival Red VS Blue | FettFilm | 1,572 | (2.33) |
| ?Hidden Red vs Blue Joke![new music | BillNy3ROXS | 1,238 | (2.31) |
| ?RvB quotes 1 | Cronik | 2,823 | (2.13) |