Keyword "Sony"
612 sites have this keyword listed in their metadata, here's one you may hate: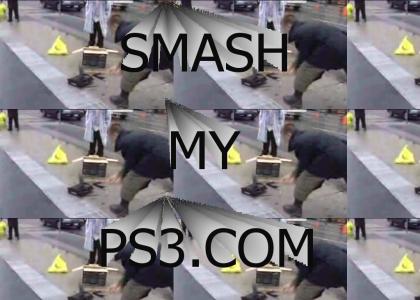 A brand new PS3 gets smashed infront of a bunch of Sony fanboys. Video at SmashmyPS3.com. Let me set a few things straight. That is not me, I did not buy a PS3 to smash it. I just linked the site cause I thought it was funny.
Other sites with this keyword...
| | | | |
| --- | --- | --- | --- |
| ?What is Sony on? | rebelphoenix83 | 1,543 | (2.90) |
| ?New PSP Model and Price Cut | demiveeman | 894 | (2.90) |
| ?Busted, Nailed, Snagged | Schitthaus | 767 | (2.90) |
| ?Wii zin the juice | Ejflex | 2,355 | (2.90) |
| ?Revolution vs. PS3 controller...part 2! | clearacell | 3,755 | (2.89) |
| ?The Sony Fanboy is Revealed! | JoDB | 1,283 | (2.88) |
| ?Sony got OWNED | BigWilly | 1,072 | (2.88) |
| ?PSP flopped, Kutaragi confirms! | bhytre | 2,985 | (2.88) |
| ?RIIIIIIIIDGE RAAAAAACER | rebelphoenix83 | 776 | (2.88) |
| ?Medieval Ridge Racer | sohnemann | 1,298 | (2.88) |
| ?Kaz Hirai Smirks Into Your Soul | ZeromusMog | 1,267 | (2.87) |
| ?Proof that Xbox 360 is for bitches | Aturaten | 1,743 | (2.87) |
| ?Mario trys out teh funnay (updated) | DFB | 656 | (2.86) |
| ?Epic Sony Maneuver! | GhostEmperor | 827 | (2.86) |
| ?Japan | SatsumaLegacy | 827 | (2.86) |
| ?Piranha Plant | rebelphoenix83 | 848 | (2.83) |
| ?PS3 is a fatty | dreamslayer | 1,685 | (2.83) |
| ?NABISCO: So here are these Sugar Free Oreos. | M0rtanius | 657 | (2.83) |
| ?Doin' it for the Kaz | mrvendetta | 697 | (2.83) |
| ?Where's the good news?! Ohmygod! | aragami | 868 | (2.83) |
| ?Benny Hill vs. PS3 controller | DarkImpact | 3,584 | (2.83) |
| ?MS beats Sony in Japan Poll | Scot | 953 | (2.83) |
| ?The ultimate book for Sony fans! | GAMER4EVER | 737 | (2.82) |
| ?Sony Steals | kopiok | 2,948 | (2.80) |
| ?Sega and Sony do what Nintendon't | rebelphoenix83 | 922 | (2.80) |