42 sites have this keyword listed in their metadata, here's one you may hate: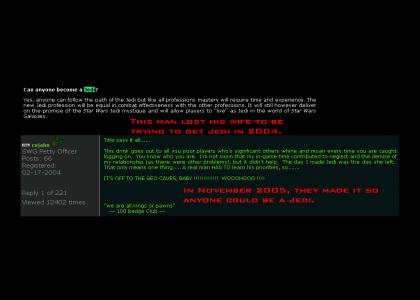 Heh. Back in 2004, Jedi was hard to get. This guy lost his fiance because of it. He seemed pretty happy, though. Too bad with the latest patch ANYONE can be a Jedi. ( Sorry for the incorrect date. x.x' )
Other sites with this keyword...
| | | | |
| --- | --- | --- | --- |
| ?Inside look at whats next in SWG! | Nokie | 3,079 | (3.85) |
| ?Star Wars Episode II according to Star Wars Galax... | Evildingo2 | 8,350 | (3.77) |
| ?Jedi have one weakness... (SWG) | FangTheSniper | 1,773 | (3.50) |
| ?What is wrong with you Sony!? | tfarr | 1,091 | (3.38) |
| ?Head of SOE, John Smedley, on SWG... | darkknight109 | 4,919 | (3.33) |
| ?SoE needs nerfed | zepear | 39,402 | (3.28) |
| ?Rebels dominate the Battle of Restuss by... | Neghtasro | 991 | (3.25) |
| ?NGE not 'Fast Action' Enough? | DrugInducedDuck | 1,546 | (3.18) |
| ?LOL Star Wars Galaxies | SpanWolf | 1,495 | (3.14) |
| ?The Trial of Obi-Wan | Helios | 3,287 | (3.13) |
| ?Wrecked 'em | Dr-louie | 440 | (3.09) |
| ?Lol, NGE | rm0099 | 5,573 | (3.00) |
| ?Gotta Boogie | Dr-louie | 357 | (3.00) |
| ?SWG Safety Not Guaranteed | klink-darkmoon | 3,908 | (3.00) |
| ?MuffinMan the Man | BananaMan | 786 | (3.00) |
| ?SOE customer service explained.... | TehPeak | 3,430 | (2.81) |
| ?SOE & LucasArts fail at SWG | snipaho | 1,577 | (2.80) |
| ?Sony Online ENTERTAINMENT | consider | 4,895 | (2.75) |
| ?What is Swoopgang Love? | Askir28 | 2,167 | (2.75) |
| ?For Love of the Star Wars Game... | Jedi-of-the-Hills | 2,160 | (2.75) |
| ?Jetpacks had one weakness... (SWG) | FangTheSniper | 721 | (2.54) |
| ?SWG Gone Bad, When kids attack | KingJeezy | 4,153 | (2.50) |
| ?restuss carebears | Souxsi | 585 | (2.50) |
| ?Star Wars Galaxies Forum Simulator | roflosaurus | 1,821 | (2.43) |
| ?What really happened to SWG | TehPeak | 1,832 | (2.36) |
| ?Aegik is the Juggernaut BITCH! | gwidion | 535 | (2.33) |
| ?Poetry in Translation SWG Style | copperbelly | 1,492 | (2.33) |
| ?Is something a amiss at SWG? @.@ | TehPeak | 1,436 | (2.27) |
| ?A Level 500 in SWG? | gtgoskate | 1,345 | (2.10) |