169 sites have this keyword listed in their metadata, here's one you may hate: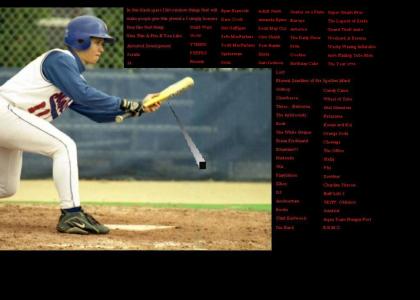 TELL ME IF: Tell me if this is taking too much away from the original ytmnd, the bunting was a fun idea but it takes more to be extroiadanryddydy. Otherwise Ill edit this thing till its nothing but a bat.
Other sites with this keyword...
| | | | |
| --- | --- | --- | --- |
| ?Tobias! You Blow Hard! | ajquick | 7,730 | (3.94) |
| ?LOOSE SEAL | tion | 6,605 | (3.94) |
| ?Arrested Development - SEASON 4 (UPDATED!!... | ajquick | 3,739 | (3.93) |
| ?Hulk Takes on The Hurricane(refresh) | Snake-Plissken | 7,939 | (3.93) |
| ?AhhhHhhAaHHh | TjenTang | 25,793 | (3.92) |
| ?Franklin Is Coming for You | dajbman22 | 2,900 | (3.90) |
| ?arrested development...With spicy club sauce | thim | 5,890 | (3.90) |
| ?Tobias Goes Blue | FLIM6000 | 1,395 | (3.89) |
| ?Lil Mac's REAL father was... | NeonEndymion | 1,123 | (3.89) |
| ?Baby You've Got a Stew Going | ajquick | 19,551 | (3.87) |
| ?GOB's MAGIC! | chomedy | 9,305 | (3.86) |
| ?Sad Angle Walk | jsnt | 2,232 | (3.86) |
| ?Carl Weathers Will Fight You For Stew | CarlWeathersDickBloo | 1,377 | (3.86) |
| ?Should-uh, should-uh: G.O.B. is speechless Arrest... | paphan | 16,643 | (3.85) |
| ?Annyong (Arrested Development) | dognamedtruman | 3,888 | (3.84) |
| ?Gob is the Rabbi Magician! (properly looped) | fyrestorm | 9,615 | (3.82) |
| ?TOBIAS FUNKE WANG-CHUNG TONIGHT! | yodamus | 3,284 | (3.82) |
| ?I just blue myself | shad33 | 9,536 | (3.81) |
| ?This Is Gonna Blow Your Mind *refresh* | Bojangles352 | 2,669 | (3.80) |
| ?Arrested Development - Mole Problem | cheech02 | 3,482 | (3.80) |
| ?George Sr. and Buster think of a funny site idea | mleep | 676 | (3.80) |
| ?There's ALWAYS money in the Banana St... | omgKEKE | 12,581 | (3.79) |
| ?Hey Fizellas | JBarn | 4,408 | (3.79) |
| ?I Blue Myself | kyl33t | 4,258 | (3.79) |
| ?Baby, You Got A Stew Goin! | ProfSutherland | 57,642 | (3.79) |
| ?Beep Mountain | JBarn | 1,919 | (3.79) |
| ?Guard your Sundaes !!!11 | debilitas | 2,339 | (3.78) |
| ?Good Grief Dennis Rader | tikimotel | 685 | (3.78) |
| ?move bitch (arrested development) | Tile-Maker | 3,953 | (3.78) |