20 sites have this keyword listed in their metadata, here's one you may hate: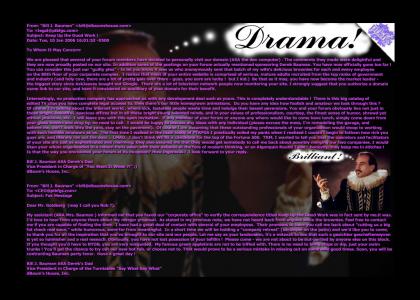 A reading of Bill Bauman's emails to Rob Goldberg on Jan 10, 2006. Sorry for the flaky English accent and chewing the scenery. Also I added a couple of words. It's lengthy. Hope you enjoy it.
Other sites with this keyword...
site
user
views
score
?YTMNT: Leonardo's new friend
Funny-Internet-User
1,583
(4.13)
?oww hurr *crunch* heh hahh hmm
amindlessidiot
4,958
(4.05)
?no more yankie my wankie....
Pimplestiltzkin
2,348
(4.00)
?Waiting For The Answers
YourTheCoconutMan
2,127
(3.88)
?9/11 Conspiracy Theorists Make no Sense
foxymcfox
2,928
(3.76)
?lol, distraction
MSGspike
643
(3.60)
?Blah Blah Blah Come Over There and Kill Yeeeee...
koolaider
1,186
(3.55)
?I'm gonna try to remember
klasky
3,057
(3.54)
?Nothing Important to Say
ONLYoneCANNOLI
558
(3.30)
?Galang off your shoulder
jsnt
914
(3.25)
?Park tha Car
tripp
755
(3.00)
?Jawa Juice (Fixed)
KatanaBuster
862
(2.90)
?stole my SLURPEE
breadinabox
754
(2.20)
?terrorism, lol
Pimplestiltzkin
990
(2.11)
?BARNEY SEX SLUT INCEST ANIME
BarneyPooper
4,579
(2.00)
?What happened to the Freedom of Speech?
Vivilyntainted
665
(2.00)
?(

nsfw

) everytime L Ron Blubber proof read somethi...
LronRubhard
782
(2.00)
?FUNKY MOOP
Qwert
764
(1.83)
?Breaking News - Elusive G-Spot found!
waitwhat
930
(1.60)