59 sites have this keyword listed in their metadata, here's one you may hate: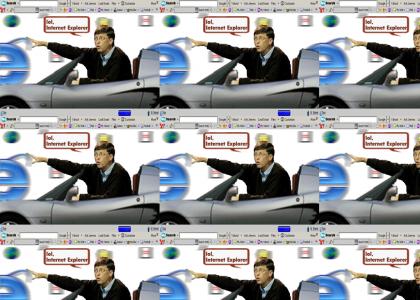 Changed the sound back to the plain one, and added Bill Gates. Was thinking of putting him in a Ford Explorer, but thought the pun may be a little too cheesy.
Other sites with this keyword...
| | | | |
| --- | --- | --- | --- |
| ?Wii startup screen! (refresh, preloader not working ... | DINING-ON-MARIO | 14,058 | (3.95) |
| ?Microsoft: Truth Hurts | zooby | 4,215 | (3.95) |
| ?firefox and ie get it on | punkrockpromqueen06 | 694 | (3.86) |
| ?IE's TRUE weakness | skycow007 | 3,046 | (3.83) |
| ?Make your computer safer | Smigg | 7,117 | (3.78) |
| ?The Worlds Most Pointless Error Message | chronyx | 4,286 | (3.75) |
| ?Tim the Toolbar Taylor | not-din | 1,519 | (3.74) |
| ?Internet Explorer hates Firefox | kyle90 | 5,826 | (3.73) |
| ?Internet Explorer Fails at Life (new audio) | forty4 | 1,663 | (3.73) |
| ?The truth that is IE | Zackrates | 946 | (3.67) |
| ?Firefox Vs. Internet Explorer | friday13 | 1,531 | (3.65) |
| ?I wish YTMND would listen... | rekaeuqs1 | 722 | (3.60) |
| ?Even Microsoft thinks IE is stupid | leileilol | 2,521 | (3.60) |
| ?Microsoft's Greatest weakness | tikkimann | 740 | (3.56) |
| ?Nobody Likes Internet Explorer | nalerenn | 1,453 | (3.55) |
| ?lol, popups | dylhugg | 669 | (3.50) |
| ?Microsoft Hates Mozilla | Skitzo71 | 794 | (3.47) |
| ?Internet Explorer Is Bored | TrueTenorMan | 1,019 | (3.43) |
| ?Microsoft is pwned | Shyrangerr | 2,290 | (3.38) |
| ?Microsoft IE Search Fails At The Bleeding Obvious | albion-sis | 1,212 | (3.38) |
| ?Secret nazi IE | Drow | 1,228 | (3.32) |
| ?IE Fails again!! | JKCougar | 623 | (3.29) |
| ?GG Microsoft | Craigy | 621 | (3.25) |
| ?Firefox fan flick | jarb | 743 | (3.25) |
| ?IE7 Pro! | slippiefist | 646 | (3.24) |
| ?Internet Explorer wont let you cross over! | Anti-H3ro | 878 | (3.20) |
| ?Opera Owns IE7 | Circumcisions | 938 | (3.20) |
| ?IE gets rejected everywhere | gaypimp | 671 | (3.00) |
| ?Microsoft Admits Defeat! | Seifer100 | 852 | (3.00) |