1,532 sites have this keyword listed in their metadata, here's one you may hate: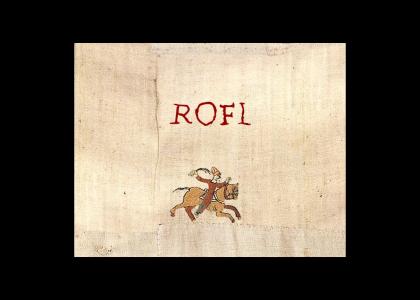 Much of the credit goes to Skerlnick, for creating the sound and helping me with the image. So be sure to give him a 5 the next time you see one of his sites. Oh... and if it's not too much trouble, a 5 on this one while you're at it! :)
Other sites with this keyword...
| | | | |
| --- | --- | --- | --- |
| ?Medieval Jar of Dirt | reemis | 10,994 | (3.94) |
| ?Medieval Encino Man | MikStarYo | 1,216 | (3.94) |
| ?Epic Medieval Manuever | PorkyDorky | 5,446 | (3.94) |
| ?Medieval Milton (Stapler) | ATMJess | 5,167 | (3.94) |
| ?Lifespan of Medieval YTMNDs | Auc | 3,341 | (3.93) |
| ?Royal Plumber (refresh) | KKM | 3,624 | (3.93) |
| ?Medieval Leeroy Jenkins | DarkDisco | 10,606 | (3.93) |
| ?Medieval Watchmen | thejugglerrr | 2,646 | (3.93) |
| ?Medieval: Giant Enemy Crab | lurker1222 | 5,230 | (3.93) |
| ?The REAL Medieval Vuvuzela | MaianMagus | 3,256 | (3.92) |
| ?Medieval March of The Penguins | MadeNJapan2 | 2,806 | (3.92) |
| ?Medieval Shoe on Head | ilestici | 961 | (3.92) |
| ?Medieval Asiacopter | RobD | 10,008 | (3.92) |
| ?Medieval Tentacle Porn | MadHatterJ | 6,505 | (3.92) |
| ?Medieval Duck Hunt | bilbobaggin3 | 5,533 | (3.92) |
| ?Medieval Duke Nukem (better sound) | GeistCake | 12,737 | (3.92) |
| ?Medieval Nothing | DarthWang | 1,152 | (3.92) |
| ?King Harold Scientology Success Story | HockeyUSA27 | 14,619 | (3.92) |
| ?Medieval John Cena | cjvirtz | 8,314 | (3.91) |
| ?Rejected Megaman Villain #01349 | Dergy | 14,417 | (3.91) |
| ?Medieval Captain Planet | shackamaxon | 6,545 | (3.91) |
| ?Medieval Safeway/Genuardi's (this one&#03... | SpyderFlash | 3,445 | (3.91) |
| ?Medieval Medieval | Ioden | 3,724 | (3.91) |
| ?Medieval Starcraft | necessity | 11,693 | (3.91) |
| ?Medieval Headshot | Rippy | 3,932 | (3.91) |
| ?Medieval Bush Dodges Shoes | SoulPirate | 2,307 | (3.91) |
| ?Dragonforce - The lost tape (Long load, refresh) | rushnerd | 5,934 | (3.91) |
| ?Medieval Allen Peppers | nemt | 7,455 | (3.91) |
| ?Owl on 1 dollar bill! REAL! | zahaaticus | 6,464 | (3.90) |