3,959 sites have this keyword listed in their metadata, here's one you may hate: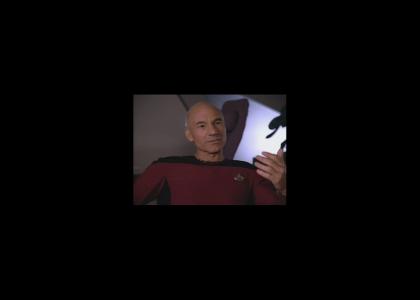 Bet you expected NEDM. ;-) And yes, the angel does like quite a bit like de Lancie, doesn't he? But in the spirit of "we're artists now," this is indeed a serious work of art . . .
Other sites with this keyword...
| | | | |
| --- | --- | --- | --- |
| ?Old Kirk tries to impress a new crowd | mcroix | 17,369 | (4.43) |
| ?YTMND: The Children's Books | styroman | 96,844 | (4.42) |
| ?What Is Star Trek Love | Drull | 40,726 | (4.42) |
| ?Chunk's Mirror Has Two Faces | AskAak | 5,055 | (4.41) |
| ?A Christmas Carol - Abridged | Chav-Slayer | 19,012 | (4.41) |
| ?Picard Teaches Art Class | SirLemming | 224,135 | (4.41) |
| ?Max's INFERNO! | money-hat | 35,635 | (4.41) |
| ?Wesley's Lessons Part 1 | fearcondom | 3,709 | (4.41) |
| ?A Rather Disturbing Discovery | MasterSitsu | 44,033 | (4.40) |
| ?Inkblot Test (New Images) | MrRallentando | 14,901 | (4.40) |
| ?Enter Toolman | tkx7 | 1,740 | (4.40) |
| ?batmanbadibadimbilbim | teamoneup | 697 | (4.40) |
| ?Ru'afo gets Aprils Fool'd by max | drpenguin | 699 | (4.40) |
| ?Optimus Prime 's Wonderful Time | jcraig1701 | 202,966 | (4.40) |
| ?YTMND Trigger | BoscoeFlatts | 73,083 | (4.40) |
| ?Picard Keeps the Galaxy Outrageous | Mohrdikai | 41,634 | (4.40) |
| ?Señor Data Sabotages Soran's Rocket | NiteSky | 6,829 | (4.39) |
| ?Pop-Up YTMND: Picard Song | Votey | 70,031 | (4.39) |
| ?lol Ronald McDonald and other people Running In T... | EvaXephon | 102,746 | (4.39) |
| ?Patrick Stewarts New Movie Idea | Dowza | 4,095 | (4.39) |
| ?Boy Band | kekko | 10,337 | (4.39) |
| ?Overdose (Worst YTMND Remix) | Dasyati | 40,601 | (4.38) |
| ?The Young Ensign's Suggestion | Mohrdikai | 32,690 | (4.38) |
| ?R.I.P. Majel Barrett-Roddenberry | Kilo11 | 1,770 | (4.38) |
| ?Fun times in ten forward | Ginsain | 1,827 | (4.37) |
| ?BAAWAITDGIFTMW | Goneja | 2,364 | (4.37) |
| ?Stan Bores Picard *Updated* | NovaDaveX | 69,704 | (4.36) |
| ?Classic YTMND T-Shirt | TasmanianTiger | 13,648 | (4.36) |
| ?MICKEY MOUSE! STAY AWAY FROM YTMN... | money-hat | 20,793 | (4.36) |