41 sites have this keyword listed in their metadata, here's one you may hate: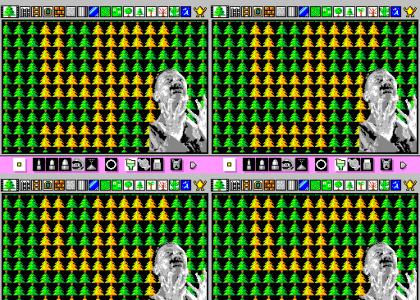 My first site in a long while. I felt like making a site dedicated to Mario Paint, so I did this. If there are any problems with the music, they're because of the restrictions in the Mario Paint sound editor (Mainly the inability to use sharps or flats).
Other sites with this keyword...
| | | | |
| --- | --- | --- | --- |
| ?Riker Plays the Wii | gunhaver | 54,047 | (4.34) |
| ?lol, mario paint *ORIGINAL MUSIC RETURNED* | altair808 | 84,920 | (4.32) |
| ?lol mario paint | barf | 67,434 | (4.31) |
| ?Mario Paint Muse Cover (1 min. audio) | crit | 3,924 | (4.29) |
| ?Mario Paint Masterpiece | aXcoreXdion | 23,161 | (4.14) |
| ?Mario Paint - I Sleep On My Little Pillow | planetidiot | 15,094 | (4.06) |
| ?It's Mario Paint!...o rly? | zahaaticus | 13,963 | (4.05) |
| ?Benny Hill Mario Paint | HolyLand | 29,164 | (3.96) |
| ?Brian Peppers in Mario Paint! | aXcoreXdion | 25,966 | (3.92) |
| ?What is Mario Paint Love? | BiggyMcFinch | 36,288 | (3.89) |
| ?The Letter P | yesyesptkfgs | 1,263 | (3.83) |
| ?Toad is offensive. | caveman | 30,909 | (3.83) |
| ?Mario Paint Tribute | aXcoreXdion | 2,056 | (3.80) |
| ?Mario Paint! | TjenTang | 3,447 | (3.74) |
| ?lol, mariopaint | MonkeyforaHead | 2,384 | (3.73) |
| ?mario paint gets rick roll'd | cyberman7 | 5,296 | (3.69) |
| ?Kraid's Claw Platforms Malfunction | Defenestrate | 1,304 | (3.56) |
| ?Kazumi Totaka's Song in Yoshi's Stor... | boodestroyer | 5,203 | (3.56) |
| ?Bob Ross: The Game | parrothead1983 | 2,997 | (3.55) |
| ?Hitler Drummer 2 (Mario Paint) | maslcar | 3,394 | (3.52) |
| ?Fly-Swat | Puddle356 | 2,882 | (3.50) |
| ?It IS a feature! | AndyAML | 4,711 | (3.34) |
| ?Mario Paint Stole My Bike! | GCNMario | 5,186 | (3.21) |
| ?Mario Paint: Neon Genesis Evangelion | Starmanclock | 3,155 | (3.10) |
| ?8-bit Lebowski | MyPinkElephants | 1,248 | (3.07) |
| ?Mario is Pwned! | takeonthefuture | 1,774 | (3.00) |
| ?4 Color Rebellion Old School Collection | truedoogie | 1,195 | (3.00) |
| ?The Best Mario Paint Song in the World | WolfThing | 2,753 | (2.92) |
| ?Mario Paint DS! | mariojoe | 6,761 | (2.90) |