10 sites have this keyword listed in their metadata, here's one you may hate: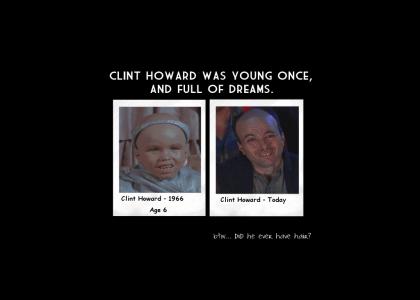 CLINT HOWARD looks back at his life, and wonders where did he go wrong... His brother RON HOWARD was also a child actor, but he's a HUGE success now. Clint Howard decides it was that role on STAR TREK that ruined him. Poor Guy.
Other sites with this keyword...
site
user
views
score
?Clint Howard Finds Release
Improviser
7,275
(4.20)
?Kramer, you've got to see the baby!
hanktherapper
34,015
(4.19)
?Clint Howard Likes It !!!
money-hat
12,539
(4.03)
?ClickHere 4 a PACARD Epic (Extended Theme)
money-hat
21,745
(3.99)
?money-hat has no artistic value ( F11)
money-hat
2,957
(3.96)
?CLINT HOWARD is the ONE!
money-hat
7,119
(3.96)
?Jerry, you've got to see the baby!
hanktherapper
3,801
(3.85)
?Clint Howard has a happy day
Zer0T0lerance
1,345
(2.64)
?(

nsfw

) Clint Howard stares deep into your soul.. an...
someguygg
2,352
(2.60)