13 sites have this keyword listed in their metadata, here's one you may hate: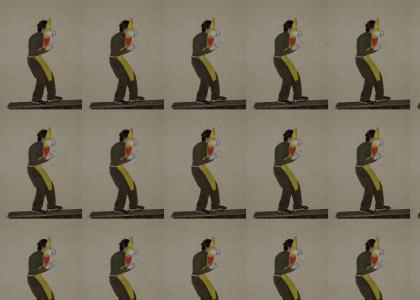 I dressed up for Halloween, decided to take a few pictures with a tripod, turned out better than I thought. Original combination of song and image by Ryan Gancenia Etrata, song by Buckwheat Boys, original image by Bloodlust. Update: Got the sound worki
Other sites with this keyword...
| | | | |
| --- | --- | --- | --- |
| ?Liberate (Dancing) Bananas!!! | jaywyle | 1,716 | (3.60) |
| ?PEANUT BUTTA JELLAE | asw7289 | 3,079 | (3.55) |
| ?BANANA (this **** is...) | pm | 1,361 | (2.80) |
| ?IT'S PEANUT BUTTER FAMILY GUY!!! | WendyLady | 4,848 | (2.78) |
| ?Dance, Dance, Banana | FynexFox | 1,622 | (2.50) |
| ?banana juice | yougotdaboot | 1,385 | (2.50) |
| ?I ain't no hollaback banana | IQpierce | 3,514 | (2.17) |
| ?Dancing Banana | dancingbanana | 1,107 | (2.14) |
| ?Link The Dancing Banana | Starmanclock | 1,353 | (2.06) |
| ?Peanut belly jelly | c0rnn | 1,459 | (1.82) |
| ?Banana Marc | arizonacats | 1,836 | (1.50) |
| ?Proof Megan Fox is a WHORE! | DjEM | 1,561 | (1.14) |