32 sites have this keyword listed in their metadata, here's one you may hate: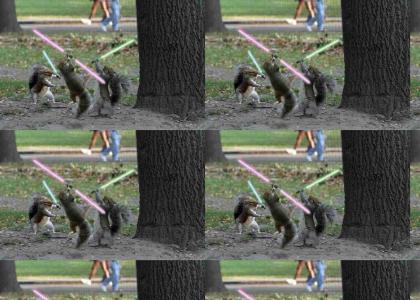 My girl friend found this picture on her travles thru the innanets. I added a second blade of the red lightsaber, she then demanded that make Duel of Fates sound "squirrely" then make a ytmnd. So if you are the orginal creator of this image, you sir, or m
Other sites with this keyword...
| | | | |
| --- | --- | --- | --- |
| ?ADGIFTMND: This Duel is Unregistered | Doomrock | 9,552 | (4.21) |
| ?Horatio Caine Jedi Master (Sync'd) | PootMcPhoot | 2,970 | (4.06) |
| ?Chip vs. Dale | dumpsterside | 10,236 | (4.02) |
| ?Grievous Raves! | badboybadd | 34,605 | (3.97) |
| ?Sith With A Smile ©®™ | BoredJedi | 6,904 | (3.94) |
| ?Grievous Rave! | Slythefox31687 | 52,664 | (3.92) |
| ?Led Saber | joeyp21 | 4,497 | (3.88) |
| ?Twisted Fables | BoredJedi | 2,363 | (3.82) |
| ?Head Shot | ingersollturok | 4,165 | (3.76) |
| ?Deleted Star Wars Scene | laketittycocka | 9,172 | (3.70) |
| ?Darth Vader Lawn Sprinkler | dajbman22 | 7,656 | (3.67) |
| ?Conan is... a Jedi Master! | Jadwin | 3,947 | (3.61) |
| ?LIGHT SABER RAVE | xxhennersxx | 7,888 | (3.43) |
| ?Corn On The PSOBB Cob! | rappyhugger24 | 4,213 | (3.33) |
| ?Party Hard Jedi Rave | Nall | 3,640 | (3.29) |
| ?Big Lightsaber | re5et | 1,536 | (3.00) |
| ?Jar Jar Sith Lord! (V2) | SuperSlash | 3,461 | (2.88) |
| ?Hulk Hogan is a Jedi! | bythorsbeard | 2,789 | (2.87) |
| ?For The Horde!! | Zoxx | 2,935 | (2.67) |
| ?Banned For Life | youarelonely | 1,350 | (2.67) |
| ?Because they were squirrels! | drhouse | 1,384 | (2.60) |
| ?The Ultimate Cosplayer | crashval | 1,438 | (2.57) |
| ?Luke...IAAB! | greygreyorange | 726 | (2.40) |
| ?Owl lightsaber duel! | Snesman64 | 1,775 | (2.33) |
| ?Conquistador | Zoxx | 1,521 | (2.25) |
| ?Hi Dad, Wanna Hitch A Ride? | ollj | 3,364 | (1.94) |
| ?Light saber dodge | wtrsport430 | 1,135 | (1.88) |
| ?Darth Maul get a Grill | codyandthesemi | 1,433 | (1.73) |
| ?General Grievous Gets All Emo OverThe Whole ... | Conspirate | 4,197 | (1.70) |