36 sites have this keyword listed in their metadata, here's one you may hate: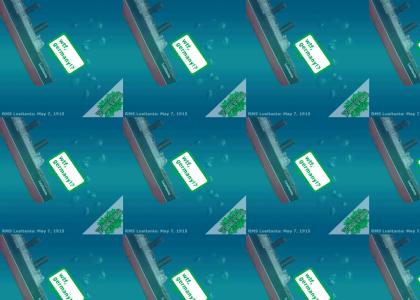 For those of you who don't know, the Lusitania was a passenger ship that was sunk by a German U-Boat in World War I. This is also a tribute to drjones56's "lol, titanic".
Other sites with this keyword...
| | | | |
| --- | --- | --- | --- |
| ?WW_Episode I | MrSmee | 8,895 | (4.18) |
| ?Just The World War III Footage | RonaldRayGun | 4,141 | (4.08) |
| ?Can you find Waldo in the Creepy WWI Photo? | Quantazmo | 16,229 | (4.02) |
| ?Breakin News: Hitler wasnt Killed | speedracer777 | 4,770 | (3.96) |
| ?While Max Was Gone....(refresh) | GoatCheese | 3,736 | (3.93) |
| ?RIP World War II Veterans | Sandman | 7,558 | (3.91) |
| ?Donald Duck's True Colors | Eidako | 12,740 | (3.89) |
| ?Hitler Confronted | Celcius | 7,939 | (3.85) |
| ?Its 1940: The SS Hammertime | perverted | 3,762 | (3.78) |
| ?If Germany won WWII | irish-egyptian | 6,235 | (3.68) |
| ?Use the PIAT!!! | Lumpy | 8,759 | (3.66) |
| ?Axis Powers Picnics | Wingsinadream | 1,888 | (3.50) |
| ?Soldier C-C-C-C-C-Combo Breaker | Seraphim | 3,222 | (3.42) |
| ?Hitler do do dooby do | arukado | 1,771 | (3.40) |
| ?Today in History July 28 | Locke5 | 1,567 | (3.40) |
| ?*FIXED* Hitler the Comedian | Lorakahn | 7,125 | (3.38) |
| ?Nazis are On Fire!!! | joeyp21 | 2,225 | (3.27) |
| ?MacGyver saves Hitler's Regime | UltimateBach | 1,325 | (3.23) |
| ?The Great Snowman Uprising - 2 | CNM | 1,021 | (3.13) |
| ?SPILL THE JEWISH NAZI | godmoney | 3,237 | (3.13) |
| ?lol sitzkrieg UPDATED | TVarmy | 2,726 | (3.11) |
| ?Sperrfeuer | sternefan | 985 | (3.00) |
| ?Pre-World War S - One | CNM | 970 | (2.89) |
| ?The war to end all... | Historic-Metal | 1,377 | (2.87) |
| ?Is this more important? You decide. | AussieC | 933 | (2.82) |
| ?Enemy @ the Gates HEADSHOT!!!! | DirtbagDan | 3,005 | (2.76) |
| ?OMG Secret Nazi Watermellon | mist | 1,536 | (2.55) |
| ?Pre-World War S - Two | CNM | 1,034 | (2.44) |
| ?Memorial for Hiroshima | EsotericMusician | 5,407 | (2.38) |