15 sites have this keyword listed in their metadata, here's one you may hate: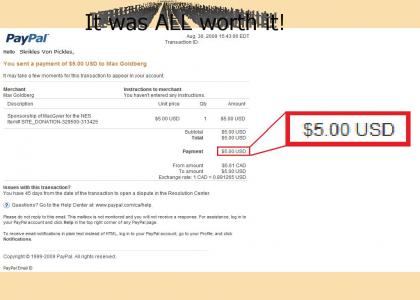 ATTN: MR MAX, as you can see I own some real estate on your island, I figure that's worth a voet and comment, right? A '3' and a ';)', at least? IF THAT'S NOT TOO MUCH TROUBLE, COME ON, WHAT DO YOU WANT FROM ME?
Other sites with this keyword...
site
user
views
score
?(

nsfw

) Another $20 Site Challenge!
GaryGnu
1,748
(3.88)
?Luft Waffles
metallizard
11,670
(3.87)
?Max is Pushing Donations To the Limit
bigboy987
2,891
(3.76)
?Paypalhax
InsomniaDMX
1,631
(3.70)
?Monkey_123 got PWND
jnivekk
8,146
(3.22)
?YTMND PayPal Donation System
Space-G
2,245
(3.17)
?Cancel FoM?
LEDJC
2,001
(2.73)
?Mistake on Paypal's site...
Cyberdude93
1,278
(2.73)
?Nadya Denise Doud-Suleman Gutierrez
stepnoj
2,079
(2.33)
?Slashdumb!
Luigi30
886
(2.25)
?PayPal protection... O RLY?
kurosen
911
(2.20)
?How to have a happy life
billyo
915
(1.71)
?Cheney got himself a gun
incucrash
1,180
(1.00)
?(

nsfw

) ytmnd voting for dummies repost
JamesLipton
558
(1.00)