27 sites have this keyword listed in their metadata, here's one you may hate: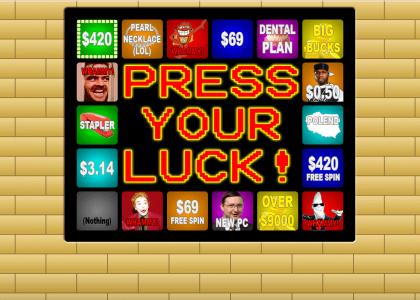 Both the spaces and the selector constantly shuffle like the real game, making over 50 results. Press the escape key to freeze the board! Avoid the most evil of whammies while going for big money! And if you are up for a real challenge, try your best to win...[b]the internet[/b]! This one definitely took more time and effort than most YTMNDs I've made. But I'm glad with how it turned out, and I hope you find yourself amused with it's contents. Inspired by dacompmandan's original Press Your YTMND, and brought to life more accurately with the new YTMND 2.0 functionality. Press F11 to go full screen. Should work with most web browsers (except Chrome, but they are working on it). Stop reading and play already. (Trip to polend has no cash value.) (Nor does the rest of this game, actually. Unless someone sponsors it. But I wouldn't ask anyone to do that. That would just be selfish.) (Also, cocks.)
Other sites with this keyword...
| | | | |
| --- | --- | --- | --- |
| ?RIP Peter Tomarken | Forgottensin | 1,697 | (4.04) |
| ?Big Money, Big Money, STOP! | mighty1 | 4,556 | (3.96) |
| ?He wants to learn Kung Fu | Sharrpe95 | 1,162 | (3.81) |
| ?No Whammies! (Press ESC) | hailseitan666 | 4,159 | (3.81) |
| ?HARDEST. DECISION. EVER. | MonkeeDude | 1,712 | (3.67) |
| ?Wario gets a Whammy! | provingapoint | 2,056 | (3.50) |
| ?Press Your Luck | VincentVanCrusefixGo | 1,917 | (3.50) |
| ?dragon force pacman | bukabu | 1,413 | (3.40) |
| ?The classic whammy stares in your soul | ytwhammynd | 1,253 | (3.17) |
| ?Peter Tomarken (1942-2006) | CoastersNSich | 2,390 | (3.13) |
| ?Michael Larson | nousername | 1,152 | (3.00) |
| ?What REALLY happened to Peter Tomarken | LupinTheThird | 1,117 | (2.92) |
| ?Kicked right in the nats! | JabroniJoe | 1,127 | (2.80) |
| ?The pilot must have got a whammy... | who-are-you-working- | 1,331 | (2.80) |
| ?Todd Newton | volter | 547 | (2.67) |
| ?Terrell Owens is a Nigger | MrEtc | 2,439 | (2.40) |
| ?FUCK floyd rose | xatmo92 | 1,064 | (2.36) |
| ?DROPKICK HEARD 'ROUND THE WORL... | ashmeister | 1,454 | (2.33) |
| ?The Whammy stares into your soul | Smoot | 1,633 | (2.33) |
| ?Whammy | nels0n | 1,305 | (2.29) |
| ?Champ Kind!!! | BALLS | 5,619 | (2.25) |
| ?No Whammies, No Whammies, Big Bucks, and S... | mmmmjournal | 1,885 | (2.17) |
| ?No change in facial expression. | Speedy | 6,049 | (2.14) |
| ?She can keep the change (refresh) | nubchaidub | 1,756 | (2.06) |
| ?whammy! (refresh) | tizravis | 1,135 | (1.50) |
| ?Costume for Hire! | joebushi | 703 | (1.00) |