Keyword "XP"
213 sites have this keyword listed in their metadata, here's one you may hate: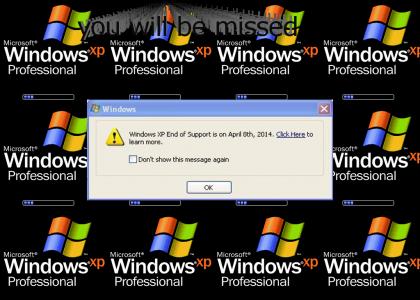 Windows XP is dying April 8. While this is probably a good thing as everyone else stopped supporting it years ago, there was just something inherently FUN about Windows XP, and it will be missed.
Other sites with this keyword...
| | | | |
| --- | --- | --- | --- |
| ?Mario Kart XP | Saturatedfats | 1,042 | (4.65) |
| ?Epic Windows XP Maneuver | spazdor | 462,269 | (4.59) |
| ?Among Us XP | hokutonokaiser | 1,282 | (4.58) |
| ?Tetris XP | chaosmarine | 52,148 | (4.54) |
| ?Windows XP R.I.P. :( | JAUG | 6,468 | (4.49) |
| ?Lazytown XP | djbillz | 84,243 | (4.41) |
| ?Windows XP has one weakness... | spazdor | 103,792 | (4.40) |
| ?Sonic XP | Bajeezus | 130,557 | (4.40) |
| ?What Is XP - Now with NO drums! | mstrswrd06 | 48,484 | (4.39) |
| ?Super Mario XP | Artman40 | 99,759 | (4.36) |
| ?epic XP inspires Mullet Man | Poho | 48,072 | (4.34) |
| ?Pacman is a ... | KoolJ | 5,420 | (4.28) |
| ?Punch-Out!! XP | Scottendo | 32,914 | (4.25) |
| ?Ninja Gaiden XP | Zorilla | 34,800 | (4.25) |
| ?Super Windows XP 64 | MikanPachi | 21,237 | (4.23) |
| ?Pacman XP | Artman40 | 35,816 | (4.22) |
| ?NEDM XP (now animated!) | Dasyati | 81,494 | (4.18) |
| ?Legend of Zelda: Windows XP of Time | DINING-ON-MARIO | 36,774 | (4.17) |
| ?Castlevania XP | Zorilla | 32,182 | (4.15) |
| ?Samus XP | popinfresh | 49,421 | (4.14) |
| ?Blaster Master XP | Zorilla | 19,904 | (4.12) |
| ?You Are A Pirate! | drunkauron | 92,592 | (4.12) |
| ?Random Windows Error (With Windows Soundtra... | Compwhiz128 | 6,299 | (4.12) |
| ?OMG, MS Paradox | HockeyUSA27 | 15,490 | (4.10) |
| ?Epic Windows XP Flaw! | notabook | 33,327 | (4.10) |
| ?A Scanner Darkly | StromCarlson | 13,845 | (4.06) |
| ?Lemmings XP | MrKsoft | 13,958 | (4.05) |
| ?Dr. Wily XP | gman250 | 8,079 | (4.05) |
| ?Chocolate XP | deathbysushi | 11,759 | (4.04) |