80 sites have this keyword listed in their metadata, here's one you may hate: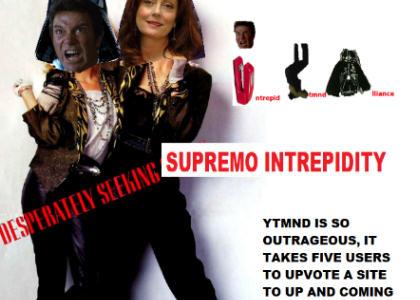 INTREPID DOMAIN GRAB on this site about the Intrepid YTMND Alliance, starring DarthWang, and Susan Trepid (aka Suzanne). Done with IYA style photoshopping! This is a parody of the 1985 movie Desperately Seeking Susan.
Other sites with this keyword...
site
user
views
score
?(

nsfw

) partyy mouse punctures the tires of the presi...
SusanTrepid
1,407
(4.20)
?TRIPLE's KHANpany
SusanTrepid
1,382
(4.17)
?(

nsfw

) partyy mouse cuts the electric lines of Gree...
SusanTrepid
1,711
(4.13)
?TROLL WARS
madDogSoldier
10,574
(4.08)
?YTMND History lesson: The founding of the IYA
DarthWang
1,751
(4.07)
?History of YTMND: The Great Alliance
Volais
6,363
(4.04)
?Where Did The Middle Go!?
hamst3r
1,517
(4.00)
?What the ECU Pirates think of NASCAR
SusanTrepid
1,526
(4.00)
?Kodo gets it on.
MrGains
1,893
(3.78)
?BEAVIS AND BUTTHEAD ROCK IT OUT!
SusanTrepid
1,847
(3.75)
?Learned Perpetual Till Pause
reverenddoom
989
(3.67)
?WRONGMUSICTMND: Lex Luthor
SusanTrepid
578
(3.67)
?OMG, Secret Nazi Warcraft Port!
WarcraftLOL
32,541
(3.66)
?Alliance Dance Party
Muffeh
7,781
(3.63)
?The new Alliance race is Gargoyles!
BringerOfDeath
5,187
(3.51)
?Firefly/Serenity is Blue?!
Apako
5,888
(3.47)
?Alliance Race is Murlocs Expansion Beta
trollpriest
4,253
(3.45)
?Serenity Operative is Screwed
deathscythe
1,427
(3.42)
?New Wow Character (In Game)
Drow
18,983
(3.38)
?Zyla Loves Elroy!!
adamreiswig
3,372
(3.33)
?WoWRLY??
Airhead15a
1,671
(3.33)
?What is nud?
hordeftw
4,281
(3.29)
?WoW my life is back
The-Scatman
19,614
(3.23)
?CATCH THAT DRUID!
Lord-Wellington
244,860
(3.12)
?New WoW Alliance race announced!
Chreb
22,609
(3.05)
?OMFG EMPIRE!
flyboy
6,583
(3.05)
?While Warner Music Group still continues to hold Y...
SusanTrepid
1,181
(3.00)
?Serenity/Firefly Two by Two...
Apako
3,976
(3.00)
?One year of SUPREMO INTREPIDITY
SusanTrepid
853
(3.00)