92 sites have this keyword listed in their metadata, here's one you may hate: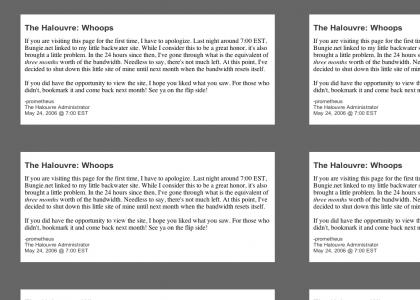 i was gonna check out some halo screenshots for a new background on my computer. when the page loaded the sound effect i happened to have previously downloaded also came on at the same time. thought it be odd enough to be amusing.
Other sites with this keyword...
site
user
views
score
?Marathon: Infinity
Blooregardo
9,428
(4.41)
?(

nsfw

) Halo 3's New Vehicle
I-Was-Drunk-At-4
3,573
(4.20)
?Marathon
B3b0
6,621
(4.19)
?A Flock for Frankie
Gzalzi
3,949
(4.10)
?MaraMoskau
Zott
14,337
(4.04)
?xur.exe
Brandonata
817
(4.00)
?Bungie releases new game!!!!!!!!
zxya
24,297
(3.99)
?Somewhere in the hallways of Bungie... (FIXED S...
MrSinistar
6,066
(3.98)
?HALO 3 ENDING leaked!
slurrey
855,921
(3.97)
?Mystery Halo Game Revealed!
Maddog5
7,771
(3.85)
?You're banned. Until 9999.
monkeyleejones
2,250
(3.82)
?Halo 3: World's End (sound update)
dave-sempai
16,863
(3.78)
?We Totally Owned The Power Rangers.
Enni
5,660
(3.78)
?Rave, it's super awesome
heckfu
1,403
(3.71)
?Master Chief Hates Meteors.
munkeypants
5,101
(3.70)
?Halo for Windows XP
MikanPachi
6,911
(3.64)
?Floodian Platypus Raves!
Gzalzi
8,037
(3.63)
?Hey Grif...
AngryCat
4,691
(3.54)
?HALO ON GAMECUBE
JaffaCake0
14,391
(3.52)
?What is Stubbs?
Moonews
3,758
(3.50)
?lol, posting
muffin-man
5,239
(3.38)
?Master Chief is just an angry cat...
Shadowbolt
3,780
(3.31)
?Master Chief is UNMASKED!!!11!!!
n3z
5,034
(3.29)
?Lego Star Wars Kid Feels Left Out
I-Was-Drunk-At-4
20,374
(3.29)
?Heartbeat like Halo (Better)
Gzalzi
3,851
(3.29)
?Epic Bungie Domain Grab
ChaosWakej2
1,177
(3.25)
?Igni Ferroque - A Tribute
ZeeJollyRoger
2,727
(3.25)
?Halo fails at originality
fsmetal
11,024
(3.24)
?Bungie shows off new melee weapon
SteelDracon
1,547
(3.23)