34 sites have this keyword listed in their metadata, here's one you may hate: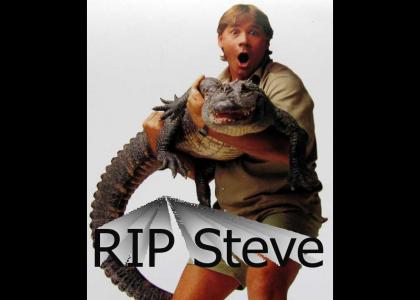 He died from a Stingray barb to the chest while filming a documentary. He is survived by a wife and daughter. The irony of his death is almost too much to think about. Thanks to Playboxcube for pointing out he also has a son.
Other sites with this keyword...
| | | | |
| --- | --- | --- | --- |
| ?lol, Stingray Attack!! CRIKEY!! | mmmmjournal | 6,774 | (3.67) |
| ?A Maple Tribute to Steve Irwin | musicman2059 | 3,018 | (3.64) |
| ?Steve's death entertains CNN | tuesdayisgone | 1,588 | (3.62) |
| ?We'll miss you, mate | MediaDemon | 1,225 | (3.42) |
| ?The Crocodile Hunter runs out of luck. | Cubedude | 3,339 | (3.41) |
| ?Medieval Steve Irwin | kaidkaicker | 2,001 | (3.27) |
| ?Steve Irwin Snakes on a Plane! | Cubedude | 15,004 | (3.26) |
| ?Epic Alligator Teasing Maneuver | g2dopeicp | 1,479 | (3.22) |
| ?10 Bell Salute for Steve Irwin | n00beatz | 1,216 | (3.08) |
| ?Stingray Death List 3 | FMAfan | 929 | (3.00) |
| ?lol, stingray. | Corpsegoddess | 85,866 | (2.93) |
| ?CRIKEY!! THAT AIN'T NO STINGRAY!!! | laketittycocka | 1,225 | (2.90) |
| ?LOL... Stingrays | delrazor | 1,021 | (2.75) |
| ?Steve never got Conan :( | Shiky | 914 | (2.43) |
| ?Crocodile hunter loves his baby | RawrSaysI | 1,683 | (2.37) |
| ?Vagoina! | lpskate21 | 1,328 | (2.33) |
| ?In life, Steve Irwin had one weakness... | raybin | 1,600 | (2.27) |
| ?Croc Hunter Killed by RAY! | guitarhero | 1,328 | (2.20) |
| ?Farewell Steve Irwin | nijhazer | 1,146 | (2.18) |
| ?lol, crikey | davemasterx | 2,903 | (2.03) |
| ?Gotta Learn Sometime... | chidedneck | 863 | (2.00) |
| ?STEVE IRWIN JAY KAY! | reapers | 976 | (2.00) |
| ?Steve Irwin 20XX | OneNateSeven | 1,144 | (1.86) |
| ?Irwin, Shot through the heart | YuRpLe | 922 | (1.80) |
| ?In Honor of Steve Irwin | travisrd | 2,295 | (1.64) |
| ?We will miss Steve | Evo8 | 837 | (1.60) |
| ?CrocOWNedile Hunter | HAcoreRD | 1,066 | (1.54) |
| ?*Leaked* Steve Irwin's death on tape! | paradox89 | 1,418 | (1.50) |
| ?Steve Irwin's last moments. | Ballyhoo | 1,150 | (1.50) |