27 sites have this keyword listed in their metadata, here's one you may hate: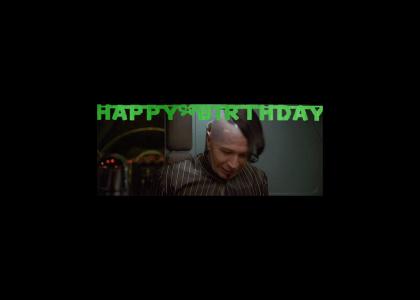 Maybe you'd have more friends if you didn't blow them up in telephone booths, Zorg!! I was going to edit a party hat onto him but that hair is FABULOUS! Joking aside, I'm sorry if this makes you sad.
Other sites with this keyword...
| | | | |
| --- | --- | --- | --- |
| ?Saving The World With Rock | Chav-Slayer | 17,031 | (4.33) |
| ?A Fifth of Beethoven | ultrudeus | 2,153 | (4.19) |
| ?Moby Tuck | Chav-Slayer | 13,144 | (4.11) |
| ?badaboom | Miscreant | 3,242 | (3.88) |
| ?Ruby Rap | BoscoeFlatts | 4,186 | (3.85) |
| ?Negative, I am a meat popsicle | nymos | 14,305 | (3.81) |
| ?No means No... | the-odinas | 2,992 | (3.80) |
| ?The Beatles had a 5th band member | tkx7 | 1,967 | (3.76) |
| ?YTMND Is Now Fifth Best Site Ever! | misterslam | 1,112 | (3.67) |
| ?Ecto Gamat | the-odinas | 5,206 | (3.63) |
| ?5th | ytmndtheend | 905 | (3.60) |
| ?Love is the Fifth Element | Dashuimash | 3,675 | (3.55) |
| ?Korben my man! | FallOutThor | 1,492 | (3.50) |
| ?Korbeeeeeen Dallas! | BoscoeFlatts | 1,740 | (3.42) |
| ?lol, multi-pass *updated* | el-syntho-grande | 2,215 | (3.42) |
| ?Don't leave children unsupervised at school..... | protomanexe07 | 1,560 | (3.14) |
| ?A Fifth Grade Soap Opera | kabal128 | 1,138 | (3.00) |
| ?ytmnd radio | Charizard | 736 | (3.00) |
| ?Jeff Foxworthy is... | tkx7 | 1,054 | (2.83) |
| ?Tucker Exorcises His Demons | BoscoeFlatts | 2,203 | (2.57) |
| ?The "Daniel Sherrer" Project | thesacredflame | 956 | (2.50) |
| ?fifth Reich Pierre | fifthreich | 916 | (2.33) |
| ?ONE-MILLION SMACK-A-ROOS!!!! | ineedyogurt | 1,299 | (2.25) |
| ?Leeloo from the Fifth Element | rscp | 2,492 | (1.53) |
| ?Bad Gary! | BuenoCabra | 4,227 | (1.00) |