22 sites have this keyword listed in their metadata, here's one you may hate: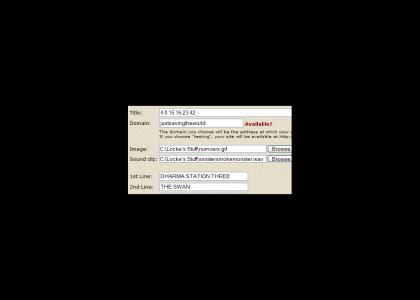 Locke doesn't submit a YTMND every 108 minutes and dooms the island to a gruesome fate. I've seen a few sites do the YTMND/hatch thing before, but none that shows the system failure.
Other sites with this keyword...
site
user
views
score
?Lost Owned
thefeity
5,215
(3.98)
?Lost's Monitor
JasonFrost
10,000
(3.93)
?Micheal is sorry
JasonFrost
5,287
(3.92)
?(

nsfw

) THE HATCH FUCK THIS SHOW
fuckingtest
5,305
(3.78)
?Cicada Emerging
Zogbar
1,472
(3.76)
?Locke wants Conan's Butterfinger
Hylian
3,760
(3.73)
?The LOST Numbers - WTF DOES IT MEAN?
ryguy178
10,591
(3.69)
?Locke Needs Yet Another Timmy
Dagger
2,086
(3.60)
?There Is No Dave, There Is Only Hurley!
snaimoli
4,543
(3.52)
?Things are looking bad for John Locke
Noway
5,131
(3.46)
?Emo Locke
AJC4Canes
1,619
(3.30)
?Locke Should Have Listened
moogley21
1,158
(3.25)
?Locke was WRONG!
YodatheHobbit
1,495
(3.00)
?Egyptian John Locke
Micheal
2,811
(3.00)
?OMG! Double Homicide! (Lost Spoiler)
Slothboy
1,122
(2.86)
?Homeless Football
jhatch3
1,070
(2.80)
?Michaels Dirty Secret
AppFlapJack
844
(2.54)
?What's Down That Hatch? (refresh)
monkeyleejones
1,406
(1.89)
?Idiot's guide to ABC's Lost!
J0shCube
1,093
(1.58)
?others others others
guise
1,421
(1.50)
?When you don't push the button...
GrinningManiac
2,806
(1.50)