16 sites have this keyword listed in their metadata, here's one you may hate: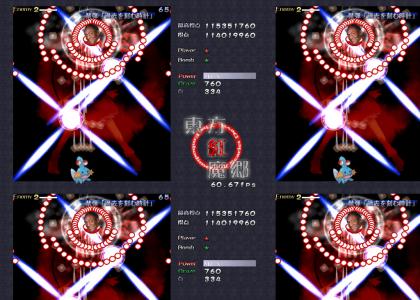 This highly catchy song called "U.N. Owen was her?" comes from the Extra Stage Boss of a game called Embodiment of Scarlet Devil from the Touhou series of manic shooting games. Inspired after hearing a rather odd mix of it with Ronald Mc
Other sites with this keyword...
| | | | |
| --- | --- | --- | --- |
| ?U.N. Owen Was WRONG!!! The Embodiment of S... | Jedi787Plus | 4,754 | (4.15) |
| ?Scarlett Johansson is... | fakelimecat | 6,723 | (3.78) |
| ?..no it's my FLOATY!!!! | westifer | 2,765 | (3.57) |
| ?My Shitty Remix Page | detoxmethod | 1,469 | (3.38) |
| ?The truth about "The Scarlet Letter" (rel... | titanium-gecko | 5,533 | (3.24) |
| ?Blades of Light! | Brutok | 5,929 | (3.11) |
| ?PTKFGS Scarlett Johansson stares past you | OMGSeth | 2,574 | (3.08) |
| ?Scarlet Johansson | ShastyMcNasty | 2,345 | (2.88) |
| ?Chuck Norris on Google | dreamincerise | 5,084 | (2.50) |
| ?I luv da puppars | Doombringer55 | 1,253 | (2.44) |
| ?nine-ball | luigivgking | 1,487 | (2.43) |
| ?chris = fail at life and wow | infernodentures | 1,664 | (2.33) |
| ?Captain Scarlet! | Karlamut | 3,223 | (2.17) |
| ?anime | mik3m | 1,024 | (1.83) |
| ?Scarlet is serious business | Archo | 2,078 | (1.80) |