Keyword "some"
115 sites have this keyword listed in their metadata, here's one you may hate: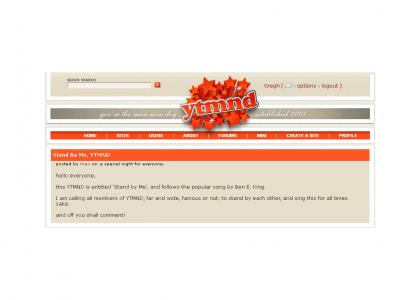 All the usernames in the animation are of people who have achieved a lot on YTMND (e.g through a popular submission). This took me 4hours overall. Syncs perfectly in IE, but NOT in firefox. Try refreshing or switching ;)
Other sites with this keyword...
| | | | |
| --- | --- | --- | --- |
| ?LeVar Burton plugs Reading Rainbow | tkx7 | 35,189 | (4.39) |
| ?F'n Pie | Cubedude3 | 17,857 | (4.25) |
| ?Pour Some Sugar on Colbert! | doctor-acula | 10,065 | (4.18) |
| ?What if someone mixed all fads together? | jewish-hitman | 3,849 | (4.16) |
| ?directionless proof of concept ytmnd | wisdumcube | 8,871 | (4.15) |
| ?DADDY WOULD YOU LIKE SOME SAUSAGE? | shakes | 28,595 | (4.11) |
| ?BloodyPython Chooses an Avatar (MINICONTEST... | tzsjynx | 3,855 | (4.07) |
| ?Someytmndsong in 9 mins | Lio | 949 | (4.00) |
| ?Continue. | Kirelan | 1,522 | (4.00) |
| ?lol, cyberman | CaptainCommunist | 11,144 | (3.99) |
| ?Fun With prairiedogeric10 Audio | CrazyRay | 2,897 | (3.95) |
| ?My Beary Weary ran away! | CoppertoneGirl | 6,018 | (3.92) |
| ?Throw Some D's: Dramatic Reading | Alex-the-Great | 7,670 | (3.92) |
| ?Can we have some now mummy? | Yashar | 3,658 | (3.91) |
| ?The Majestic Don Imus remix | tkx7 | 3,146 | (3.89) |
| ?throw some Ds on that bitch doc! | scottydoggz | 1,535 | (3.89) |
| ?Getting Sum Head | twistedparanoia | 2,760 | (3.88) |
| ?Ozzy Osbourne bites the head off of a bat | shittiestytmnderever | 14,702 | (3.85) |
| ?Would you like some more PANCAKES? | gheritt-white | 18,830 | (3.84) |
| ?Make Some Sites (also, thePlease STILL loves NE... | mik3m | 2,901 | (3.82) |
| ?just bought a cadillac | bigboy987 | 1,572 | (3.80) |
| ?I want to buy some cheese | Niiiice | 2,597 | (3.74) |
| ?º•º•º•º&bu... | KOOKYMANG | 1,392 | (3.74) |
| ?Bub Rubb's Selected Whistle Tips | man-of-war | 7,170 | (3.71) |
| ?Darth Stapler twirls some staplers | DarthWang | 3,139 | (3.69) |
| ?get your black jesus today! | GibbityGibblets | 1,338 | (3.69) |
| ?Yes, Have Some! | eldaanzari | 3,286 | (3.67) |
| ?Metal Gear need some wood? | ghcghcghc | 3,120 | (3.63) |
| ?If you see someone wearing this t-shirt | JonParmesan | 838 | (3.63) |