43 sites have this keyword listed in their metadata, here's one you may hate: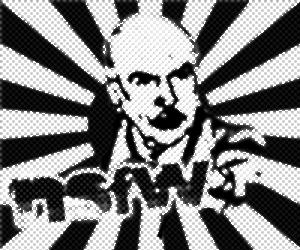 I just thought of this at work and thought I'd make it cause it was funny. I don't know if it's still funny, but oh well. All tests show it matches up perfectly, but you'll still have to refresh or use the preloader! I don't know why it won't just work
Other sites with this keyword...
| | | | |
| --- | --- | --- | --- |
| ?Dokuro Super Rave Remix | Nabeshin | 30,910 | (4.23) |
| ?Over EZ Breakdown | LegoLewdite | 1,403 | (4.05) |
| ?The City That Never Fails | xwildturkx | 3,649 | (4.02) |
| ?Super Mario XP (Underground) | themonty | 13,528 | (4.01) |
| ?Ninja Gaiden Underground | BloodyHammer | 2,669 | (4.00) |
| ?Clandestine | TheMarquis | 1,088 | (4.00) |
| ?Moon god? | dyskrasia | 2,159 | (3.90) |
| ?Underground danger | supercd | 7,135 | (3.86) |
| ?Gotta Move | stoned | 4,608 | (3.82) |
| ?A day in the coal mine | tkx7 | 1,498 | (3.80) |
| ?THUG 2: New Orleans | laketittycocka | 2,430 | (3.78) |
| ?I'm not really proud of them | aiaidevil | 1,423 | (3.71) |
| ?Sonic Underground Rocks | sonicrocks | 1,795 | (3.67) |
| ?SPECIALBOY! | ChadSexington | 4,517 | (3.66) |
| ?I DON'T LIKE FOOD ANYMORE | JaffaCake0 | 5,366 | (3.63) |
| ?underground graveyard | peterpigman | 1,168 | (3.60) |
| ?Mundial Ronaldinho's Underground 64 | Cobradile | 149 | (3.50) |
| ?Mind The Gap | ozpublic | 1,147 | (3.22) |
| ?Katamari Rave | dajbman22 | 4,222 | (3.10) |
| ?Sonic Underground! | RawkuhrNurd | 6,911 | (3.09) |
| ?KShay Party | WalkerEvans | 1,297 | (3.00) |
| ?DO ME BABY! | stsfan | 2,991 | (3.00) |
| ?London Underground | getoutofmyway | 1,050 | (3.00) |
| ?SWALLOW YOUR SOUL SWALLOW YOUR S... | JaffaCake0 | 3,667 | (3.00) |
| ?Get in the cellar | stokiesteve72 | 1,275 | (3.00) |
| ?Sloth's Underground Rave | jimijenga | 1,098 | (2.88) |
| ?London Underground | Sclass12 | 1,616 | (2.80) |
| ?LMFAO | Alexis | 1,357 | (2.64) |
| ?London Phones Have One Weakness | Little-Rena | 987 | (2.63) |