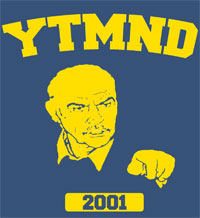 Description:
Greetings and welcome to the first YTMND T-shirt design contest! Sorry for the delay, I just wanted to make sure we had all of the specifications right. I have yet to decide how many different designs we are going to print for now, but that shouldn't stop you from entering multiple times!
Specifications:
Colors: Four color maximum.
Locations: Two locations maximum.
Keep in mind these shirts will be
screen-printed
so keeping a vector version of your design will be quite helpful! I think it's preferable to not have .COM on the front of the shirt, in the past we put a small logo on the sleeve which looked like this:
This contest will run an extra week to make sure there is ample time for everyone to enter!
Prize:
1st Place (as chosen by max):
- 3x Shirt printed with your design.
- 1x Limited edition Black-on-Black YTMND original shirt.
- $50 of sponsorship money

Runners Up (who's designs we use):
- 2x Shirt printed with your design.
- $20 of sponsorship money.

Other Runners Up:
- $20 of sponsorship money.



Start Date
March 26th, 2009 02:43pm
End Date:
April 16th, 2009 04:42pm
Entry Deadline:
April 15th, 2009 04:43pm