17 sites have this keyword listed in their metadata, here's one you may hate: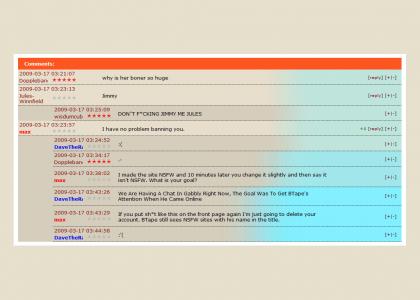 If We Listen To Each Other's Hearts! We'll Find We're Never Too Far Apart! AND MAYBE LOVE IS THE REASON WHY! For The First Time Ever We're Seeing It, Eye To Eye...
Other sites with this keyword...
site
user
views
score
?Guess Who's Back?
DaveTheRave
3,008
(4.13)
?TOURNEY2: Every Second Counts
DaveTheRave
2,658
(4.13)
?Tourney2: DaveTheRave Makes A Neat Little Site
amindlessidiot
1,006
(4.09)
?(

nsfw

) TOURNAMENTMND2: The Worst Kind of ...
MrMuskOx
2,506
(4.08)
?TOURNEY2: Dave Confronts Filibuster
DaveTheRave
1,017
(4.06)
?Its Too Late...
DaveTheRave
6,497
(4.04)
?MICROPHONETMND: FUNNY IMPERSONATION ...
wisdumcube
1,561
(3.96)
?TOURNAMENTMND2: Coming out to Play
MrMuskOx
999
(3.95)
?DarthWang Gives You Personal Advice
NiteSky
731
(3.90)
?Dave's Musical Loop Collection: PART 1
DaveTheRave
2,884
(3.84)
?NAME THAT VIDEO GAME
Gaybuttsexrocks
833
(3.75)
?TOURNAMENTMND1: Creation Story
ficklefackle
957
(3.72)
?AutographsTMND: DaveTheRave
DaveTheRave
666
(3.67)
?HOW THE FUCK DID I GET HERE?
abigail
1,342
(3.40)
?Dave is Smooth
DaveTheRave
869
(3.20)
?Max edits the down page
Mnm1002
1,152
(2.69)