659 sites have this keyword listed in their metadata, here's one you may hate: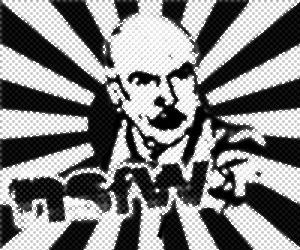 America.... f*ck Yea. For those who take offense to this, You Fail at YTMND. For those who think this site supports bush, You fail at life. And last this site is not Anti America or pro America. Its just a f*cking song.
Other sites with this keyword...
| | | | |
| --- | --- | --- | --- |
| ?Milton loves Cake | Fluk3 | 3,455 | (3.26) |
| ?Pork chop Milton | Eleventysix | 3,656 | (3.26) |
| ?Big Grains of Salt | ChronoX | 1,490 | (3.26) |
| ?canada! | Cobaltblue | 2,384 | (3.25) |
| ?I believe thats my fucking stapler! | The-FienD | 3,228 | (3.25) |
| ?I Believe you have my TIGER HANDHELD! | tehtomato | 6,488 | (3.25) |
| ?I Believe | ivannio | 686 | (3.24) |
| ?Max HeadRoom Sings - fixed | cmcharliejojo | 3,978 | (3.24) |
| ?I believe you have my stapler in your pocket | embroisured | 1,627 | (3.23) |
| ?I believe Goku Has My Stapler | Ratchetwiz | 3,672 | (3.23) |
| ?Georges Gets some messages on his Answering M... | noleafclover2583 | 983 | (3.23) |
| ?That's the last straw! | lawlB | 856 | (3.22) |
| ?Ytmnd assualt team! | jetfighter180 | 602 | (3.22) |
| ?Shaun1018 needs therapy | Shaun1018 | 898 | (3.22) |
| ?Staplerclub NOOOOOOOOOOOOOOOOOw OOO... | DarthWang | 2,316 | (3.22) |
| ?Ric Flair YMCA | tubsoffun | 2,150 | (3.22) |
| ?I believe you have my CLOUDSONG!! | Cavemanbob | 10,128 | (3.22) |
| ?I believe you have my Crotch Pops (stapler) | parrothead1983 | 3,757 | (3.21) |
| ?In loving memory of Picard... (Refresh) | BatmansPants | 11,358 | (3.21) |
| ?I Believe You Have My Popcorn? | Pixellated | 2,633 | (3.20) |
| ?Ye Olde Stapler on Tapestry | cozbaldwin | 3,620 | (3.20) |
| ?the supreme court of ytmnd | dickyride | 807 | (3.20) |
| ?Milton's Undone Stapler | oddible | 928 | (3.20) |
| ?Milton Gets His Stapler Back | Smigg | 2,336 | (3.19) |
| ?Milton's ORIGINAL Appearance (Before Offi... | ToastChef | 2,916 | (3.18) |
| ?JESUS WAS... | Deady | 2,685 | (3.18) |
| ?I believe you have my Chicken Fries!!!! | thelegendofzaku | 40,788 | (3.18) |
| ?NEW FINAL FANTASY OMFG!!! | PUMPKINSEEDjoe | 11,515 | (3.18) |
| ?I can't believe you have my stapler! | Stipo | 4,773 | (3.18) |