582 sites have this keyword listed in their metadata, here's one you may hate: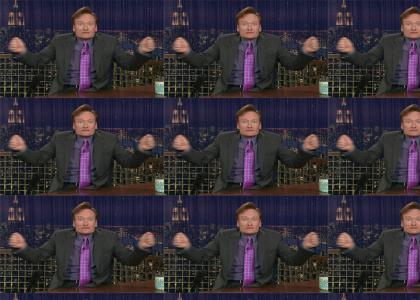 If the synching is still off, blame my misunderstanding. Thanks to syncan for sync help. Vastly appreciated. More thanks to syncan for the "Future Conan" gif and Dasyati for the Conan alligator YTMND.
Other sites with this keyword...
| | | | |
| --- | --- | --- | --- |
| ?Don't Tase Me Now | Robs | 16,679 | (4.11) |
| ?Bohemian 8-bit Rhapsody | mafialligator | 193,657 | (4.09) |
| ?What is Queen? | metalgeek153 | 70,716 | (4.09) |
| ?Don't stop Charlie and Grandpa now | alvarado6411 | 31,630 | (4.08) |
| ?Pool Boy | cantcooktoast | 2,229 | (4.06) |
| ?Gman can't deny Wikipedia | Shabba | 12,516 | (4.04) |
| ?NES Queen | josh0 | 11,891 | (4.04) |
| ?Classic Shaun of the Dead | DschinghisPimp | 14,986 | (4.03) |
| ?I'm Going Slightly Mad | Chav-Slayer | 8,182 | (4.02) |
| ?Don't Stop The Marshmallow Man Now | alvarado6411 | 6,192 | (4.01) |
| ?epic beauty queen maneuver | wingerding | 3,867 | (4.00) |
| ?You're a Liar! | GaryGnu | 637 | (4.00) |
| ?Queen and Fried Chicken | sadfaces | 1,900 | (4.00) |
| ?Dont stop me now backwards??? hidden message ... | Mugen5939 | 1,004 | (4.00) |
| ?Freddie Mercury vs James Hetfield | GaryGnu | 1,260 | (4.00) |
| ?Galileo...? | pqowieur | 648 | (4.00) |
| ?Wing sings dancing queen | incydious | 2,137 | (4.00) |
| ?COSBY FAD WON'T DIE | MJGHavoc22 | 9,723 | (4.00) |
| ?syncan WINS at YTMND! | Shorty-Longstrokin | 4,759 | (3.99) |
| ?Don't Stop Me Now | sadfaces | 20,180 | (3.99) |
| ?Don't Stop the Scout now! (extended) | Katana | 9,232 | (3.98) |
| ?</ pineapple prison \> | laundry | 4,205 | (3.97) |
| ?Music is officially dead (50 Cent meets Queen) | sniper-basic | 8,352 | (3.96) |
| ?Transformers have body language | Bananattack | 8,794 | (3.96) |
| ?HeFinallyDidIt!(WithGoodMusic) | siccoyote | 2,810 | (3.95) |
| ?Pyramidhead and Rose: Friends Forever | epsilonminus | 8,787 | (3.95) |
| ?She likes it rough | DeathsHand | 4,370 | (3.94) |
| ?That dog is having such a good time...not | Gregh | 1,647 | (3.94) |
| ?Another One Bites The Stapler (Final Update!) | Daddar | 19,996 | (3.93) |