Keyword "RPG"
277 sites have this keyword listed in their metadata, here's one you may hate: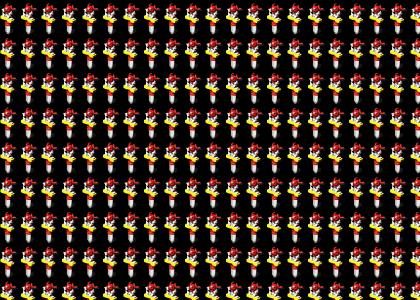 I was up really late with caffeine coursing through my veins, listening to Numa Numa... I saw my friend had a Smithy avatar that was bouncing in time to the song. It was really, really funny at the time, so uhm... yeah.
Other sites with this keyword...
| | | | |
| --- | --- | --- | --- |
| ?Black Mages Upgraded | mcnichoj | 1,329 | (3.25) |
| ?WoW Forums are serious business | atma9 | 25,698 | (3.23) |
| ?Ragnarok Online 2 Yaoi | pikangie | 3,033 | (3.22) |
| ?Mission Complete | blues | 1,677 | (3.22) |
| ?Super Mario RPG (Geno Forest music) | TacoNacho | 4,701 | (3.21) |
| ?Nobuo Uematsu is a musical genius. | frenchbreadpizza | 1,281 | (3.20) |
| ?FINAL FANTASY 7: Tribute To Aeris' Deat... | SpankyRules | 12,370 | (3.18) |
| ?Scientists Say Chocobos REAL | buya97 | 841 | (3.17) |
| ?ARM'S FIGHT | Kunster | 1,472 | (3.17) |
| ?Buddha, LMAO RPG (PTKFGS) | dondrei | 1,604 | (3.16) |
| ?RIP Mario | WALRUSMAN | 1,156 | (3.14) |
| ?MALLOW! MALLOW! MALLOW! | InvaderMB | 1,372 | (3.13) |
| ?mini uzi and rpg have MAD CLASS | girugaHESH | 406 | (3.11) |
| ?Super YTMND RPG! -UPDATED!- | StuffedMannequin | 731 | (3.11) |
| ?Sin CIty: The RPG (update) | Yakuzajoe | 974 | (3.11) |
| ?Lufia maintheme | sternefan | 844 | (3.11) |
| ?Ragnar | ninkendo | 1,459 | (3.09) |
| ?BLAKK! | legotronn | 1,344 | (3.08) |
| ?MMOtivation Posters ftw | Bishoptuse | 1,309 | (3.08) |
| ?Kanye west George Bush RPG | llopedogg | 2,091 | (3.07) |
| ?Riddin Spinnas Mario RPG | SlickKilla | 3,316 | (3.06) |
| ?Xenosaga 3 meets Final Fantasy | Fattierob | 5,593 | (3.00) |
| ?Indiana Jones MMO | Petmc20 | 964 | (3.00) |
| ?Atlus USA breaks the fourth wall | Pikz | 625 | (3.00) |
| ?Final Fantasy Meets Industrial Rock With Disastrous... | maiku | 9,278 | (3.00) |
| ?Cosby RPG - TheoWave! | MajinPiccolo | 1,314 | (3.00) |
| ?I WAS RUNNING! | benryhenson | 3,206 | (3.00) |
| ?Ness makes sure Mr. T knows that kidnapping is ag... | Hatline92 | 3,504 | (3.00) |