269 sites have this keyword listed in their metadata, here's one you may hate: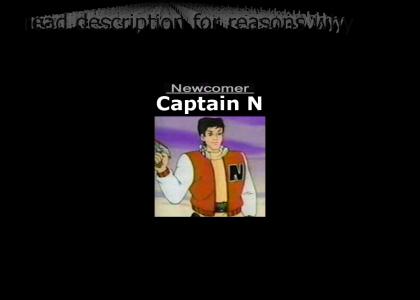 This one actually makes a bit of sense, aside from licensing issues, this character appeared on a saturday cartoon called Captain N: The Game Master back during the days of the NES. This character, Kevin Keene also has a good relationship with Link.
Other sites with this keyword...
site
user
views
score
?psdahfjjsdahfdi!
CrazyRay
359
(3.33)
?Do the Salmon Dance
thegreatgurra
561
(3.33)
?Ouch hornssssssssssssssss
theyork2000
521
(3.33)
?1337 skillz
KriegCommando
454
(3.33)
?Our princess is in another castle
faschwaa
1,233
(3.33)
?SSB: MIYAMOTO VS IWATA! OMFG
GermanFox
1,706
(3.31)
?New SSBM Trophy #1212
xpirate16
1,624
(3.30)
?Pikachu + Dawg = LOVE
maypepnecro
931
(3.29)
?You're Brothers? No.....YES! [A Night At Th...
EX86
3,898
(3.29)
?I Think I'm a Clone Now
MikeMan419
1,641
(3.29)
?Gangsta Mario
whitacre7
10,317
(3.29)
?Venture Bros - Look Away!
Dartt
5,138
(3.27)
?Lumbergh of Brothers
DirtbagDan
1,221
(3.27)
?N*gg* to Steal Super Smash Bros.: Brawl?
dunsparce
5,769
(3.27)
?Captain Falcon Stares Into Your Soul
XMetaphysics
1,210
(3.25)
?Mario enjoys a nice cup of tea
nuser-uame
476
(3.18)
?Momma's Got Some Big Ol' Titties...
wesker99
6,750
(3.17)
?Pikachu like-a the fart?
AgentParsec
1,815
(3.17)
?Super Smash Brothers on the PS Triple
JonParmesan
447
(3.17)
?Super Mario Dances
Shortyman
1,764
(3.17)
?New SSBM Character (Fixed)
BackAndSmart
1,415
(3.14)
?Robots Don't Hold Back *Update Pic
handsomemax
621
(3.14)
?(

nsfw

) WoW Stole Marios Mushroom
Sandtiger
16,372
(3.13)
?Mario Fails
soodey
4,692
(3.13)
?The Nun can't get the Bee!
kristofftw
377
(3.13)
?nsmb: nsmb edition
Joebear
1,463
(3.12)
?Brian Peppers Big Brother
ScSiTransfer
2,614
(3.11)
?Guy posts suicide note because of broken SSBM di...
DragonGoomba8912
4,138
(3.09)
?The Real Super Mario Bros 2
PDK
1,314
(3.08)