872 sites have this keyword listed in their metadata, here's one you may hate: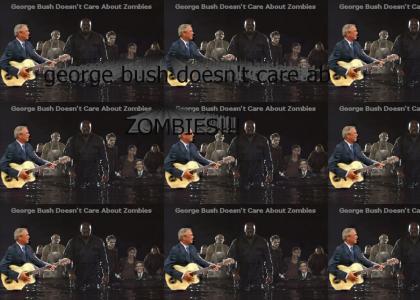 george bush doesn't care about zombies. well...it's from some photoshopping i did after i escaped katrina. i'm a big fan of george romero's movies, and i think they retroactively make an apt political statement about katrina.
Other sites with this keyword...
| | | | |
| --- | --- | --- | --- |
| ?George W's Doody | Vorschlaghammer | 2,011 | (2.64) |
| ?What Really Happend | SkeetedOnUser | 788 | (2.63) |
| ?George Bush Doesn't Care About.... | YouSmellLikeCrap | 1,423 | (2.63) |
| ?myunitedstatesofwhatever | jakerzinc | 485 | (2.63) |
| ?streets of baghdad | shorxrore | 959 | (2.63) |
| ?Bush & Cheney, Problem Solvers! | CroutonMagillicutty | 979 | (2.63) |
| ?bush is gona kick some ass biatch | starwarsowns | 1,557 | (2.62) |
| ?Not Even A Recount... | PrussianMight | 668 | (2.62) |
| ?Michale Moron Moscow | p00t | 1,633 | (2.62) |
| ?Bush Is Gangster lol | BiscuitxGT | 2,734 | (2.61) |
| ?Stupid MF | musicloser4 | 668 | (2.60) |
| ?Bush Eats Babies!!! | your-moms-box | 1,650 | (2.60) |
| ?SECRET NAZI... George Bush? | Mingledon | 682 | (2.60) |
| ?Poopin' President | surfpunk | 993 | (2.60) |
| ?Hey dubya, guess what??? | We-named-the-dog-Ind | 578 | (2.60) |
| ?Star Wars Meets The Bush Administration | Greatone2428 | 1,193 | (2.60) |
| ?poopjig | mewildunot | 2,930 | (2.60) |
| ?BUSH is less evolved then the rest of us(Update | KoLbEr34 | 1,353 | (2.60) |
| ?George Walker Bush Texas Ranger! | JDTMND | 771 | (2.60) |
| ?George W. Bush is Lord | MisterBling | 2,453 | (2.58) |
| ?George Bush is... | nyucka | 812 | (2.58) |
| ?Mission Accomplished | peoplestank | 3,178 | (2.58) |
| ?Bush Takes Responsibility? | InTheCell | 949 | (2.57) |
| ?mini me | mikeman074 | 637 | (2.57) |
| ?John Kerry's Best Day Ever | johnkimble22 | 696 | (2.57) |
| ?Danny Doesn't Give a Shit About Black Peo... | Conflict-Zero | 1,456 | (2.56) |
| ?Google Fails | jarmstrong108 | 2,463 | (2.56) |
| ?Hey... | TimeTravelingEchidna | 675 | (2.56) |
| ?George Bush helps you enjoy... | OMGWTFJTHLOL | 706 | (2.56) |