93 sites have this keyword listed in their metadata, here's one you may hate: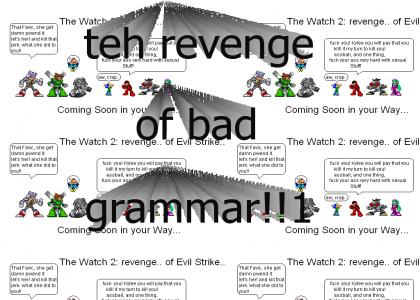 So there is somebody on Deviantart who calls himself Favic. He's a big Fan of Wonchop's Creations and also the Creations of SRMS(Kylee). Anyway this guy asked both of them to watch his gallery and stuff...i guess hes annyoing. So he made this beautiful
Other sites with this keyword...
| | | | |
| --- | --- | --- | --- |
| ?Correcting Flamer [FIND THE HIDDEN MESSAG... | sinecure | 5,785 | (4.16) |
| ?Bow Wow teaches physics, logic and grammar (fin... | science | 22,661 | (4.10) |
| ?Microsoft Word fails at Grammar | WarszawaScream | 8,937 | (4.07) |
| ?Neil fails at grammar. | cerberus | 9,709 | (4.06) |
| ?Not knowing is worse than... | Sodomeister | 733 | (3.80) |
| ?Don't Encourage His Shitty Grammar! | Kempton | 2,272 | (3.74) |
| ?YTMND fails at grammar | Nickolai | 3,615 | (3.60) |
| ?YTMND is in the middle... | mybunnyownsyou | 852 | (3.59) |
| ?STOP! GRAMMAR TIME! | Alexis | 15,361 | (3.58) |
| ?I dun ph34r gwammarz, i has sparknotz! | kippy33 | 951 | (3.57) |
| ?X3 Frasier Crane Beast: MAN OF CLASS | wadew | 6,371 | (3.53) |
| ?Internet forums beware... | Hyperdragoon | 981 | (3.50) |
| ?Yours glyph is open! (ecco the dolphin) | Brianisapickle | 751 | (3.50) |
| ?GRAMMAR SLAMMER BAMMER | Bongfu | 1,854 | (3.50) |
| ?Pop-up had ONE weakness | Xoltoath | 904 | (3.46) |
| ?MS Word Fails At Grammar 101 | travis | 974 | (3.43) |
| ?Epic Iraqi Maneuver | Woglo | 1,556 | (3.38) |
| ?Fire Emblem fails at spelling | SamuraiSam | 5,074 | (3.35) |
| ?Rofl grammar nazis | Krulin | 2,198 | (3.33) |
| ?downvoters acting smart have one weakness (upda... | toast | 960 | (3.33) |
| ?Public Service to CYR | HockeyUSA27 | 662 | (3.33) |
| ?MS Word Fails at Grammar Check | SirLemming | 2,129 | (3.30) |
| ?RouletTMND : Kelsey Grammar | Clodius | 606 | (3.29) |
| ?Fans of Empire at War fail at spelling. | EvaXephon | 2,401 | (3.28) |
| ?Korea wins at grammar | skeez | 1,311 | (3.27) |
| ?Grammar Nazi Pwnage is Serious Business | antaelus | 760 | (3.25) |
| ?REALITYTMND: Proof There Is Bad Grammar On... | AWPerative | 1,042 | (3.25) |
| ?ATTENTION ADVERTISER - YOUR A BAD SPE... | wallet | 722 | (3.24) |
| ?Santa dishes out the insults. | cyberanubis | 986 | (3.21) |