161 sites have this keyword listed in their metadata, here's one you may hate: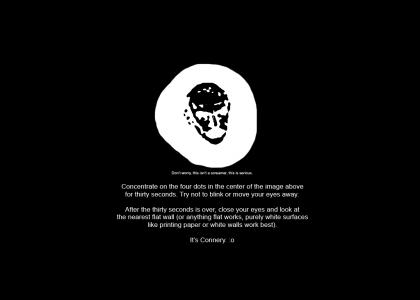 One of the few YTMNDs that I made before my roommate Nick asked to use my account, and screwed it up while I was out of state. That's the last time I share any of my accounts with anybody. :|
Other sites with this keyword...
| | | | |
| --- | --- | --- | --- |
| ?to Moon? NEVER! *fixed* | Cougarten | 19,797 | (4.33) |
| ?Neon Plaid MS Paint Genesis(new music) | sanvarin | 2,926 | (4.32) |
| ?Deception | kekko | 6,473 | (4.23) |
| ?YTMND Illusion #1 | bl4nk | 1,792 | (4.21) |
| ?the REAL illusion of gaia | saibot101 | 19,273 | (4.17) |
| ?Trippy 3 | r00bix | 28,285 | (4.16) |
| ?David Copperfield has Magic Hands | foxymcfox | 1,422 | (4.08) |
| ?Kitten Illusion | gomathesnail | 9,693 | (4.08) |
| ?OMG, Secret Nazi Forest of Illusion (improved) !! | brdude | 66,980 | (4.06) |
| ?Trippy 2 | r00bix | 6,506 | (4.04) |
| ?Stare at the center for a while then look away. woo... | cloudy01 | 292,370 | (4.03) |
| ?Final Countdown (Gob Bluth Arrested Developmen... | ajquick | 72,580 | (4.03) |
| ?just some rocks | Rise182 | 436 | (4.00) |
| ?Don't focus and it works | Niiiice | 766 | (4.00) |
| ?Misunderstanding | angra | 685 | (4.00) |
| ?Ridin Illusions | th3c4t | 702 | (4.00) |
| ?Spin Illusion (Instructions in description) | juliovega914 | 3,602 | (3.98) |
| ?CRAZY ILLUSION *TRIPPY* | Nox | 11,097 | (3.97) |
| ?Squares A and B are the same color. | cyberanubis | 1,681 | (3.97) |
| ?Headache | Nites-Bro | 3,614 | (3.96) |
| ?Liquid Trip | yesyesptkfgs | 928 | (3.95) |
| ?10:25 | lysergia | 4,578 | (3.95) |
| ?Trippy 4 | r00bix | 3,755 | (3.94) |
| ?Damn, I hate these | HockeyUSA27 | 1,513 | (3.93) |
| ?Hypnotic Face Opticonfusion | sauce1977 | 7,614 | (3.92) |
| ?lol infinity | spazzmckiwi | 2,956 | (3.92) |
| ?Motion w/o Movement? Escher Animated | Jokerkaaos | 10,414 | (3.91) |
| ?Which way is she spinning? Left brain, right brain. | JohnForbesNash | 1,988 | (3.90) |