86 sites have this keyword listed in their metadata, here's one you may hate: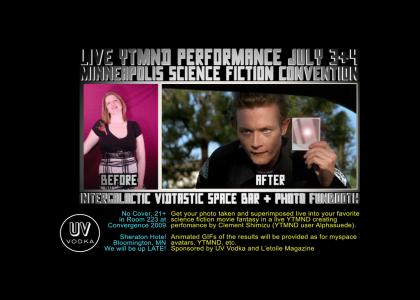 I am throwing a room party at the Minneapolis science fiction convention! I am going to be taking pictures of people and animating them into science fiction movies in real time. I have prepared a bunch of clips and tools to streamline the process.
Other sites with this keyword...
| | | | |
| --- | --- | --- | --- |
| ?Dispirited tiger no longer gives a _______ | wabawanga | 914 | (4.12) |
| ?Just fly away | wabawanga | 661 | (4.11) |
| ?Voight-Kampff | BTVagrant | 1,578 | (3.98) |
| ?Look at this bunny's photograph | Nibble | 2,525 | (3.97) |
| ?Epic Williams Maneuver | DarkShade | 6,362 | (3.96) |
| ?Photo Editing The Emo Way | CaylC | 48,123 | (3.91) |
| ?Something bad's gonna happen :( | everblink5 | 5,352 | (3.91) |
| ?down at the waterin' hole | exquisiteCadaver | 1,056 | (3.91) |
| ?Look at this photograph | Pajo | 4,400 | (3.89) |
| ?Myspace Photograph | Thunder | 23,474 | (3.89) |
| ?Polar bear has a blue ball | wabawanga | 3,758 | (3.88) |
| ?Prairiedogeric10 Eats Breakfast | roberthans | 3,556 | (3.86) |
| ?An undaunted turtle | wabawanga | 594 | (3.86) |
| ?Blue Balls don't change facial expressions | shaverkid | 4,898 | (3.86) |
| ?Love Happy Otters™ | wabawanga | 932 | (3.86) |
| ?You are an Attention Star | NickAlexSnutch | 2,528 | (3.83) |
| ?4chanTMND: max REALLY wears a 4chan t-shirt | madDogSoldier | 1,417 | (3.81) |
| ?Useless Family Photo | cubansftw | 1,232 | (3.72) |
| ?Dog in a Dryer | everyplatewebreak | 696 | (3.67) |
| ?Spinal Tap don't care about black people | invisiblekid | 912 | (3.67) |
| ?HK-47 Woes | Scrunch-Muppet | 2,358 | (3.67) |
| ?lol, a picture of Father-McKenzie | tkx7 | 652 | (3.67) |
| ?Soylent Green is Tacos! | Sobieski | 1,871 | (3.65) |
| ?Look At This | menaceofsociety | 675 | (3.60) |
| ?LOL kid pukes during photo | nickster1992 | 1,235 | (3.58) |
| ?Robin Williams Rocks Out To Depeche Mode | DarkShade | 1,939 | (3.53) |
| ?Pilot Navigates....badly! | Declan2005 | 1,341 | (3.50) |
| ?photobooth of lumberjacks | tannonmalcolm | 660 | (3.50) |
| ?*photoshop* My, what soft hands! | ieatbabies | 2,017 | (3.45) |