20 sites have this keyword listed in their metadata, here's one you may hate: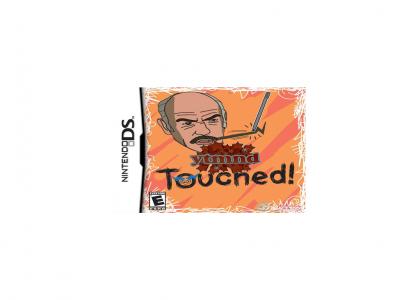 I can't list the many, many people whose images I borrowed, but if you have a question about any source, please pm me. I hope you like this game design I mocked up. Maybe someday we could play it! ... probably not.
Other sites with this keyword...
| | | | |
| --- | --- | --- | --- |
| ?you BROKE my FAD ( REFRESH! ) | audiosmith | 3,743 | (4.05) |
| ?Forget Scientology | cap-826 | 1,862 | (3.88) |
| ?somebody touched my peepee | slow-pez | 2,902 | (3.76) |
| ?He touched me innapropriatley! | FlareRDB | 2,537 | (3.70) |
| ?Sonic Likes To Touch You | Vyse | 13,872 | (3.64) |
| ?WarioWare Touched - Ashley's secret mes... | curtdogg | 14,908 | (3.58) |
| ?Touched By His Noodly Apendage | Kordesh | 4,391 | (3.57) |
| ?Gunther gets skeeted on | Robotnik | 2,348 | (3.57) |
| ?WarioWare Touched - Ashley | curtdogg | 11,192 | (3.51) |
| ?WarioWare Touched - Mike | curtdogg | 4,118 | (3.40) |
| ?Satanic Nintendo! | AudioZanX | 13,792 | (3.39) |
| ?You Touch my Tra-la-la: Anime Version | Jirin | 3,191 | (3.23) |
| ?Sonic is a Hypocrite | Rickz0r | 891 | (3.20) |
| ?Iroh got high | FlareRDB | 1,108 | (3.18) |
| ?Michael Jackson's Favorite Game!! | cadetcollins | 2,527 | (3.17) |
| ?I Can't Believe It's Not Holy! | Crashwinder | 1,166 | (3.00) |
| ?Awww lookit the OH DEAR GOD | Soup4Brains | 586 | (1.33) |
| ?Touched By His Needly Appendage | TheSpinningBrain | 658 | (1.33) |
| ?Linkin park touches emo girls | Neutralshadow | 689 | (1.25) |