353 sites have this keyword listed in their metadata, here's one you may hate: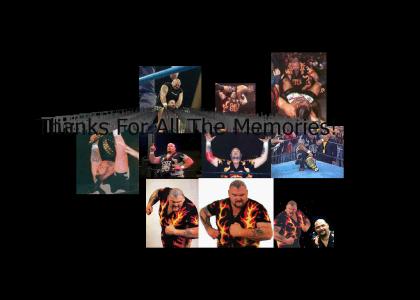 Scott Bigelow, better known to wrestling fans around the world as Bam Bam Bigelow, was found dead at the age of 45 early this morning (01/19/2007) at his home in Hudson, Florida. R.I.P. Bam Bam Bigelow.
Other sites with this keyword...
| | | | |
| --- | --- | --- | --- |
| ?Domo Arigato Cyborg | Bardai | 5,208 | (3.25) |
| ?Karnov! | Deox | 1,032 | (3.22) |
| ?Teen Titans Unlimited | SinAnsem | 7,242 | (3.22) |
| ?In loving memory of Picard... (Refresh) | BatmansPants | 11,292 | (3.21) |
| ?It isn't always a downvote... | applicableone | 748 | (3.20) |
| ?The Greatest Song in the World | austintbenton | 902 | (3.20) |
| ?Baloo | midnightkeyz | 2,781 | (3.19) |
| ?A Tribute to Final Fantasy 7 | Idler | 6,507 | (3.18) |
| ?A Tribute to the Best Song in the World | KrakaKirby | 4,257 | (3.17) |
| ?Our dmaz... | shackleford1 | 1,181 | (3.17) |
| ?MY Tribute to Chewbacca | sin4667 | 617 | (3.15) |
| ?Does my flag offend you? | MercenaryFoxMcCloud | 2,182 | (3.15) |
| ?phil collins | ivisivusi | 1,890 | (3.15) |
| ?L300 | lpgunit | 582 | (3.14) |
| ?A Special Olympics Tribute | FUZYWUZY | 965 | (3.14) |
| ?TribuTMND: Bill Withers | Fatalis | 631 | (3.14) |
| ?Remember Today | spiffking | 751 | (3.14) |
| ?Tribute?? | Kolchin | 946 | (3.13) |
| ?Can't Break Cthulhu138's Stride | jaggerblade | 878 | (3.10) |
| ?We Are But Men! | Allocca | 881 | (3.08) |
| ?Holy crap, it's the monolith! | SlayerKeith | 1,121 | (3.08) |
| ?TRIBUTE TO THE FAMICOM | Bluegamer | 831 | (3.07) |
| ?another tribute to megaman 2 | dickyride | 1,621 | (3.07) |
| ?A Tribute to Mass Fad Pages (refresh) | Zealous | 834 | (3.06) |
| ?You Can Fuse Adverb and Dalton of Zeal | DeepDeception | 1,109 | (3.06) |
| ?A Tribute...to Spawn | Kanadwen | 1,111 | (3.04) |
| ?This is not the greatest song in the world | Gnardog | 1,811 | (3.03) |
| ?YTMND: The Infinite Loop | MJGHavoc22 | 24,533 | (3.00) |
| ?BBQ | yourdogisnowtheman | 770 | (3.00) |